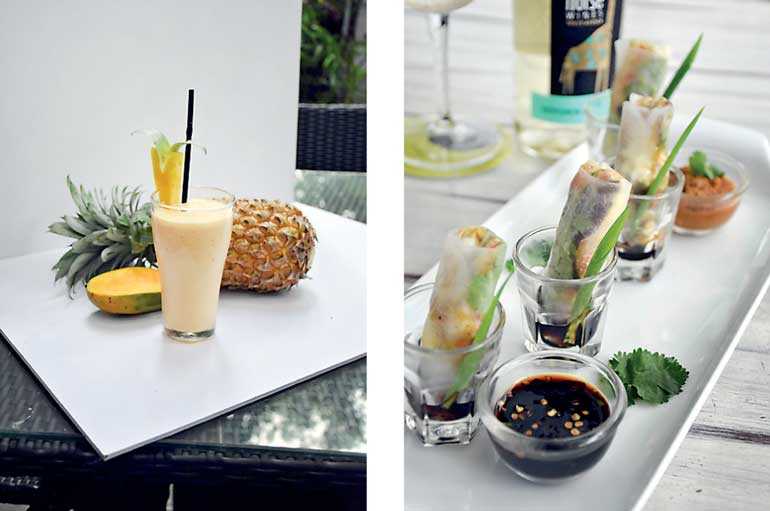 It's the time of the year with friends and family visiting from overseas and others on vacation. 'Summerlicious' is a promotion geared to make it a cool and light-hearted time for all. With this in mind the 'Summerlicious' promotion is on at The Bayleaf, The Commons, Park Street Mews Restaurant, Curve Bar, Colombo Fort Café and Harpo's Pizza for July and August.

"Every season brings its unique tastes and traditional recipes and summer season favourites promise to be a hit. A couple of these great dishes and a cool breeze is all you need to make a hot, lazy day just about perfect. 'Summerlicious' is all about food, drinks and music, sending happy vibes for all to enjoy," said MD Harpo Gooneratne.

The Bayleaf promotes Italian salads, anti pasti selection, fresh pasta with light cream sauces, Italian grilled pork fillet and grilled fish and for dessert chef Saroj's special peanut butter fudge brownies and tiramisu shortcake – not be to be missed.

The bar offers a choice of summer long cool fruity mocktails and cocktails with tropical seasonal fruit – and ladies night every Thursday – with two free rounds of drinks for all the ladies to enjoy. Wine spritzers and Roses are also a cool option.

Colombo Fort Cafe at the Dutch Hospital Complex has Euro-Med summer specials.

The Commons Coffee House of course has its excellent triple treat fruit smoothie, water melon, feta and rocket salad and the grills with chicken, tuna steak and beef steak adding to the summer menu along with the sumptuous dessert cupboard.

Park Street Mews restaurant offers crispy barramundi fish with fresh green papaya, salmon fillet with aubergine caponata, grilled lamb skewer and summer berry pavlova with joconde sponge, blueberry cheese cake parfait for delicious dessert. There's al fresco dining option to enjoy the warm tropical breeze and good company.

Curve Bar is all geared with summer entertainment and new Summer Daily Tapas Lunch deal hard to beat with healthy juices. The extensive cocktail menu, tapas range and cool vibes makes Curve Bar a definite venue to enjoy.

Harpo's Pizza has a new range of summer pizzas with BBQ pork and grilled vegetable pizza specials.

Drinks get colder, nights get longer, music gets louder, life gets better with Summerlicious at The Bayleaf, Park Street Mews Restaurant, Colombo Fort Café, Curve Bar, Commons Coffee House and Harpo's Pizza.