Nithyakalyani CEO A.P. Jayarajah opening

the 'Pin Thaliya' with invitees
Wellawatta Nithyakalyani Jewellery, a pioneer in the gem and jewellery trade in Sri Lanka, celebrated its 40th anniversary in grand style recently. The company which began its journey in 1978 has been in the forefront over the last 40 years and today is a leading exporter of jewellery in Sri Lanka. Nithyakalyani Jewellery which launched a series of social service programs this year to mark its 40-year celebrations installed a drinking water dispenser for the general public in front of its showroom in Wellawatta.

The aim of installing the dispenser along Galle Road was to assist the general public who travel daily along the road to quench their thirst. This brings back memories of the 'Pin Thaliya' which existed in our villages in the past. The 'Pin Thaliya' was a large bowl or cauldron of water, kept along the road to help villagers walking along to quench their thirst. This water dispenser installed by Nithyakalyani Jewellery can be used by the general public at any given time of the day.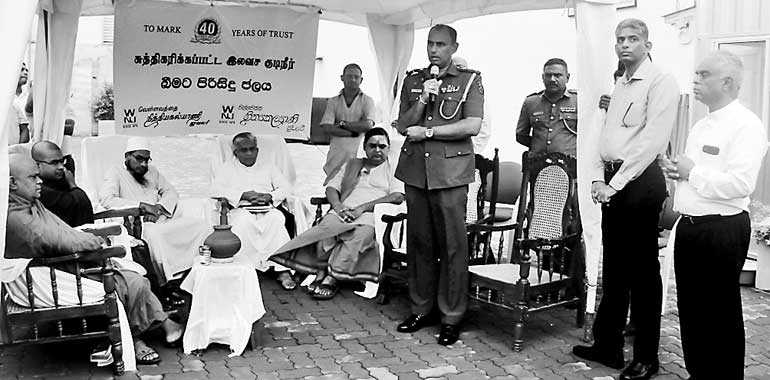 Opening ceremony held at Nithyakalyani premises


Wellawatta Nithyakalyani Jewellery has been a trusted jeweller in Sri Lanka for 40 years through their commitment to quality and customer service. A collection of over 30,000 jewellery designs attract customers who are keen on product quality and contemporary designs. Nithyakalyani possesses an in-house factory where they manufacture platinum, gold, white gold, diamond and gemstone jewellery under the supervision of experienced, well-trained craftsmen. The technical advancement exemplified by approaches such as CAD, 3D printing to create life-like objects out of customer imagination has led to exports to many countries including Australia, UK, Canada, Switzerland, UAE and USA.

Over the last four decades, Nithyakalyani Jewellery has forged ahead, winning many accolades and awards. It has been recognised multiple times by the National Chamber of Exporters, Export Development Board (Presidential Awards), National Gem & Jewellery Authority, Central Bank of Sri Lanka (Global Commerce Excellence) and other National bodies for its exceptional performance in uplifting the gem and jewellery industry. The establishment has won more than 25 awards since its first export award in 2003. Wellawatta Nithyakalyani was also highlighted for its people management process when it was recognised as one of the top 25 best workplaces in Sri Lanka, based on a survey done by Great Place to Work (USA). As it has embarked on its journey beyond 40 years, Wellawatta Nithyakalyani Jewellery remains synonymous with trusted service. The trusted service provided at Nithyakalyani Jewellery continues to attract local and overseas customers who are also keen on product quality and contemporary designs.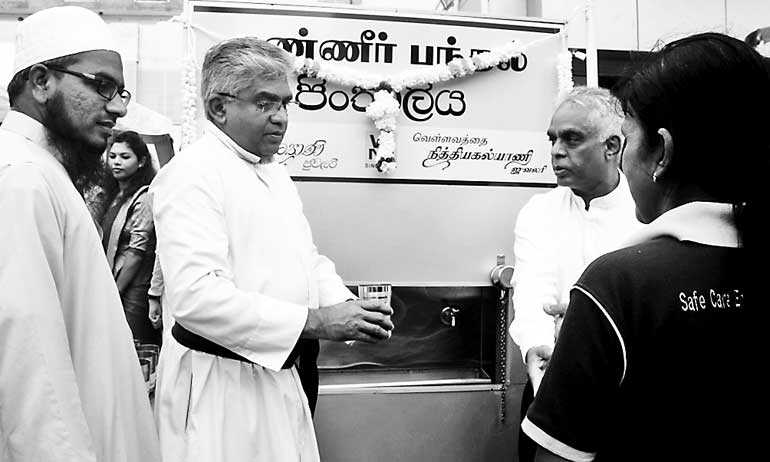 Nithyakalyani CEO A.P. Jayarajah opening

the 'Pin Thaliya' with invitees