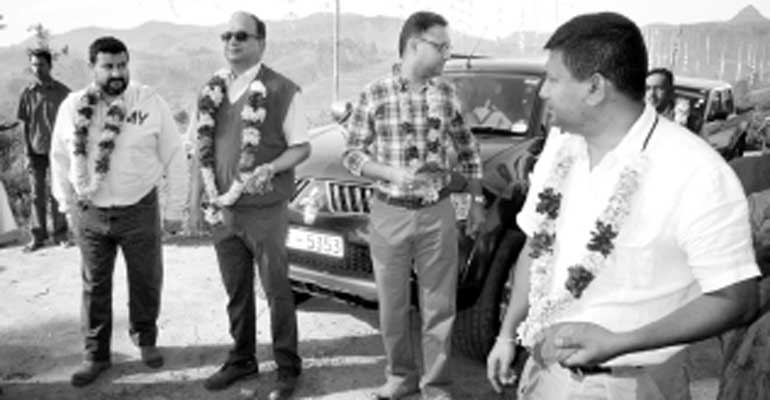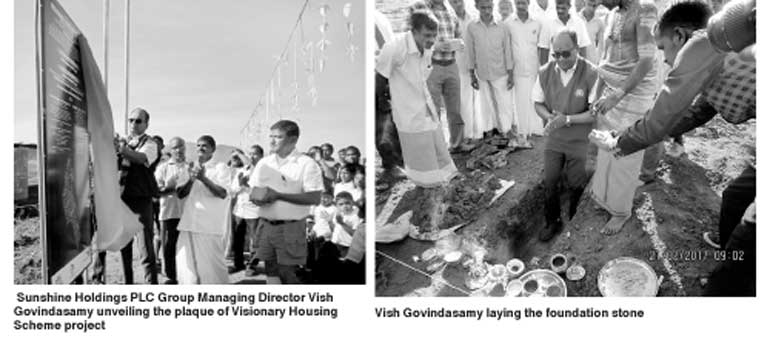 Watawala Plantations PLC (WATA), a subsidiary of the diversified Sri Lankan conglomerate Sunshine Holdings PLC announced the commencement of an extensive housing program in the Dickoya District that – once completed – will provide improved housing, infrastructure and amenities for 100 families from the Lonach Estate.

Part of an ongoing commitment from the company to enhance the living standards, lifestyles and livelihoods of estate sector communities, the new houses are designed to include all basic amenities, while each home will also be constructed with a dedicated plot of land for employees to cultivate crops to supplement both their incomes and nutritional requirements.

The top management of the Group and WATA, including Sunshine Holdings Group Managing Director Vish Govindasamy and WATA CEO Binesh Panawala were in attendance at the foundation laying ceremony for the first housing scheme project in Dickoya Estate in Nuwara Eliya District, part of an overarching Corporate Social Responsibilty (CSR) initiative from Sunshine Holdings under the banner: 'Visionary Housing Scheme'.

Facilitated through an investment of Rs. 44 million, the initiative is anticipated to further strengthen Sunshine Group's efforts towards providing housing facilities that uplift the livelihood and standard of living of each of the Group's employees.

Sunshine's 'Visionary Housing Scheme' was designed in alignment with Government plans to provide greater land ownership and improved housing to plantation sector employees in addition to a further plot of land in the extent of seven perches, as part of an effort to create opportunities for alternative income generation.

Under the WATA's new housing initiative a total of 100 individual housing units will be built and handed over to employees and their families who are currently based in Lonach Estate before the end of 2017.

The entire project has been structured with a strong focus on providing a better work life and other relevant welfare benefits for its employees and their families.

Speaking at the foundation laying ceremony, Sunshine Holdings PLC Group Managing Director Vish Govindasamy said: "The Sunshine Group has a long and well established legacy of responsible entrepreneurship and over the years we have worked diligently to expand this basic principle into all aspects of our business. Watawala Plantations itself is a joint venture between ourselves and the Tata Group, which in India, is similarly a trusted name that is firmly associated with values of integrity and social development.

"In that regard, we are very pleased to begin the process of building new and better homes for our valued employees. By improving their living standards and supporting these communities to develop alternative options for income generation, not only will we uplift living standards but we are confident that these improvements will ultimately flow back into the plantation industry as well."

Beneficiaries of the new housing scheme will also be provided with extensive support which will be available to both Lonach Estate workers and their family members.

Modular in design, each new house is constructed on a seven perch block of land with a built up area of 550 square feet at a cost of Rs. 640,000 each. The house comes complete with one bedroom, a sitting area, kitchen, toilet and pipe-borne water. Surrounding each house is an area of three perches that could be used for home gardening. In addition to these facilities, the housing scheme's locality near the Hatton town will provide access to better roads, schools, playgrounds, and other community amenities.

The decision to transfer 100 families from Lonach Estate to Dickoya Estate was taken after a careful evaluation of environmental and other social and economic conditions and impacts, which were directly affecting the lives of employees.

Watawala Plantations PLC Chief Executive Officer Binesh Pananwala commented, "The Dickoya Housing Scheme re-iterates our commitment to improving the lifestyle and welfare of our worker population. We are confident that socially responsible practices that have been and are being offered will bring about a transformation of estate life and we expect to see cumulative benefits in the coming years as a result of this scheme and other programs."

"The transfer of employees from Lonach to Dickoya will highly benefit them from social and economic perspectives, while it fulfils the right requirement of employees for Dickoya and the required sustenance of tea productivity, ensuring economic sustainability of the estate," Pananwala alluded further.

Watawala Plantations provide employment for more than 9,700 people and engage with nearly 55,000 residents on their estates, hence making their employees the backbone of Watawala Plantations' operations. Up to date, Watawala Plantations has provided 35.58Ha of land for 2010 Houses, supporting the socioeconomic progress of their employees' on an ongoing basis.