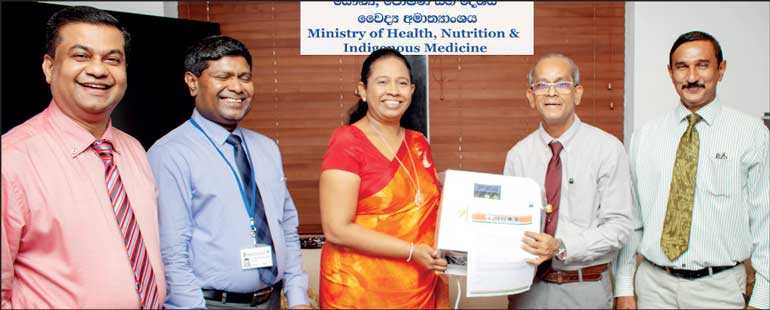 Unconditional support, international cooperation providing aid to Sri Lanka
Health Minister of Sri Lanka praises charitable act, presents a letter of gratitude
As the COVID-19 outbreak ravages worldwide, the number of confirmed cases continues to spike. Want Want Group has made the decision to take on Corporate Social Responsibility and provide aid to those affected by the pandemic on a global scale. After previously aiding seven cities in the Kanagawa Prefecture in Japan, Want Want Group continues its mission to engage in international cooperation despite challenging circumstances under which all countries are attempting to fight the deadly virus and assisted Malaysian state of Sabah as well. The organisation is now assisting Sri Lanka as part of its charitable task in providing support across international borders.

In early May, Want Want Group expressed its intention in assisting Sri Lanka by donating Slightly Acidic Hypochlorous Acid Water, also known as Water Guard, which is a chlorine-based solution proven to be an effective disinfectant against the COVID-19 virus. The Ministry of Health under the guidance of Dr. Sunil de Alwis, Additional Secretary of the Ministry of Health, and Maxwell de Silva, Secretary General of National Olympic Committee of Sri Lanka, took immediate interest in cooperating with Want Want Group in the generous donation project to recover the state from the crisis. However, with constant flight cancellations, closing of borders and other strict restrictions imposed by nations worldwide, the project was brought to a halt. Despite these tough conditions, collaboration between the two bodies took place nonetheless after showcasing constant persistence and desire for international partnership.

During the ceremony held on 26 August, Health Minister Pavithra Wanniarachchi expressed her sincerest gratitude towards the kind donation from Want Want Group Chairman Tsai Eng-Meng.

Wanniarachchi, who represented the Government of Sri Lanka at the handover ceremony said, "I personally am very grateful for the aid provided by Want Want Group during this difficult time for my country and we are very thankful for their generosity and showing solidarity with Sri Lankan people." She then praised Taiwan for its effective and efficient efforts against COVID-19 that have saved its people and holds an impressive record for the lowest cases worldwide. This encourages other nations to accommodate methods used by Taiwan CDC in reducing the impact of the virus.

Sri Lanka did follow the same path under the able leadership of President Gotabaya Rajapaksa in combating the virus ably assisted by the dynamic Minister Wanniarachchi and her able officials. The Health Ministry will then follow through the installation of the first batch donation, which includes six Slightly Acidic Hypochlorous Acid Water generators and 108 electrolyte bottles in six state hospitals. These are expected to be installed and available free of cost to frontline medical professionals as well as the general public at six of the main hospitals in Sri Lanka, including National Infectious Disease Hospital, National Hospital, Base Hospital in Mulleriyawa, Colombo East General Hospital, Iranwila New Hospital and Ratnapura General Hospital.

The main disinfecting component of the Water God is Hypochlorous Acid (HCIO). The pH level of the chemical compound ranges from 5.0 to 6.5, similar to the amount residing in the human body. The compound is colourless, a slight smell of chlorine, and is pollution-free with no chemical residue. The solution is a safe liquid that rids of odour, and is extremely cheap and convenient, as it can be applied on a wide range of objects as well as different environmental settings as a whole.

A professor from the life-science department at the Kitasato University in Japan spent many years of research that proved Hypochlorous Acid (HCIO) to act extremely effective against pathogenic bacteria. Want Want Group recognised the unique characteristic of this chemical compound and went ahead to import necessary equipment from Japan in order to produce the disinfecting Water God solution. As a result, whether it's a natural disaster or a global pandemic, the organisation acts immediately to supply the handy liquid to those in need, including the current COVID-19 outbreak.

The Group began its business as a F&B company in 1962, The Group is listed in HKSE, then ventured into media, financial, restaurant, pharmaceutical, agriculture, and disinfectant industries. During this difficult time, Want Want Group has asserted its role of social responsibility, proving itself to be helpful in assisting other nations facing the rage of the global pandemic.