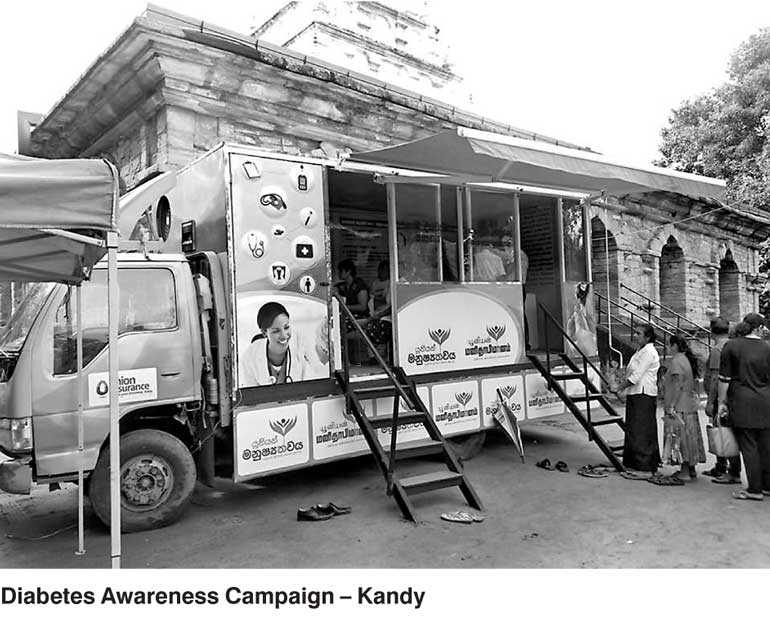 'Union Manushyathwaya – Danuwath, Suwapath, Yahapath Hetak' – CSR Brand of Union Assurance continuously makes necessary advancements to its mission in adding value to the communities across the country by building awareness and educating the people. The CSR platform strongly focuses on disseminating vital information to the public on adopting preventive measures against three diseases – thalassemia, dengue, and diabetes.

Diabetes can be identified as a silent killer which is known to be one of the leading causes of global deaths. Even the local statistics depicts the same. Scaling up prevention mechanisms, strengthening care, creating awareness and enhancing surveillance has been highly effective towards controlling the prevalence of diabetes within Sri Lanka. This was the mere fact which led Union Manushyathwaya to initiate an island wide Diabetes Awareness Campaign in collaboration with MOH (Ministry of Health) offices and NCD (Non-Communicable Disease) Units. The outcome of the interventions was to identify individuals who are potential patients of diabetes and to advise them to get medical consultation for preventing and/or controlling the condition.

The island wide campaign was started on the months of June, July and August. The overall campaign carried out 71 free pre-scanning sessions, spanning across 71 locations throughout the island. Every patient was offered a free Blood Sugar Test, Blood Pressure Test and BMI Test followed by a vital medical advice session from qualified medical officers. The overall diabetes awareness campaign was able to touch over 2,700 lives whilst diagnosing 891 potential diabetes patients who were given the required advices and guidance on control the diabetes conditions.

Union Assurance strongly believes in creating a healthier and secure community in line with their overall ethos of building life changing partnerships with their customers that is based on the delivery of transparency, respectfulness, and convenience. The Company will continue to deliver on its promise of trust, with more programmes designed to foster healthier communities in the future. These efforts will be further enriched and nurtured under the 'Union Manushyathwaya' CSR Platform.