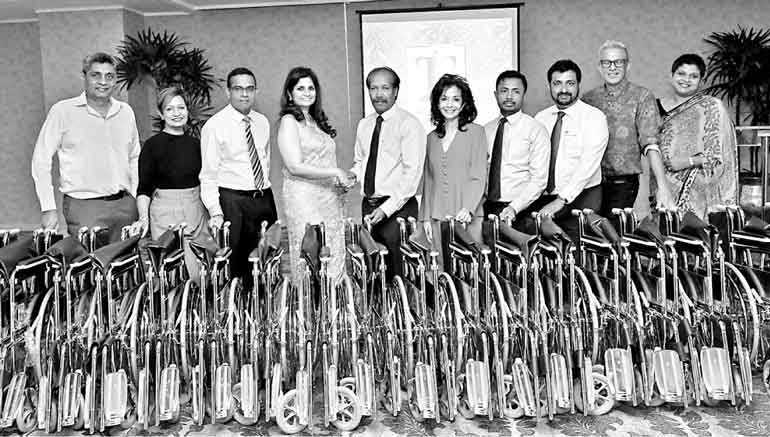 4484 – Capital Alliance Group CEO Ajith Fernando, Ramani Fernando, Prithiv Dorai, Anita Dorai, Dr. Gopi Kiynasamy – Cerebral Palsy Lanka Foundation, Headlines Public Relations Chairman Anusha David, Eurocars General Manager Ravi Opatha, Eurocars After Sales Manager Roshan Hemapriya, Brian Kerkoven, Hilton Colombo Corporate Communications Manager Gigi de Silva
Threads of Time, a fashion extravaganza that saw the best of Eastern and Western couture on the ramp via a spectacular fashion show, staged by Anita Dorai, presenter and Kavita Thulasidas, designer and owner of Stylemart, Singapore, was able to make the lives of 100 patients suffering from Cerebral Palsy a lot more bearable, when 100 specially designed wheelchairs were donated to Wheels for Wheels, an initiative by Around the Pearl.

Speaking at the donation which took place on 2 October at the Hilton, Organiser and Architect of Threads of Time Anita Dorai said it gave her and those involved with Threads of Time a great deal of pleasure to be able to make such a significant donation. "It was our intention to make this an event with a difference," said Anita. "This was not just a fashion show but a fashion show with a purpose, a cause, a determined effort to make life better in some way for those less fortunate."

Present to accept the wheelchairs were Yaas Hewage, Ajith Fernando and Dr. Gopi Kiynasamy.

Threads of Time while visually, creatively, and fashion wise, was a fashion show which will go down in the annals of Sri Lankan fashion history, made its mark more by the good that resulted from it.