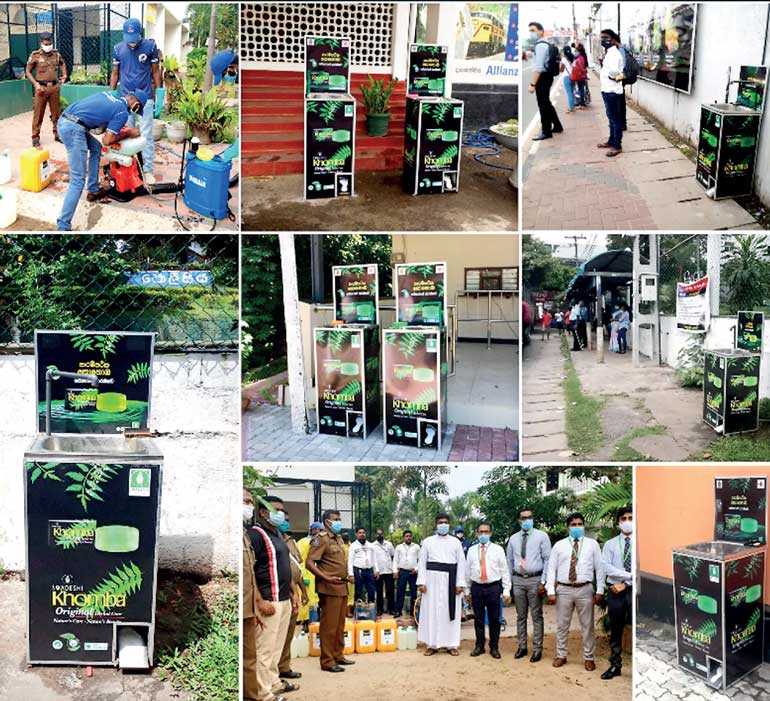 Swadeshi Industrial Works PLC at Kandana, Sri Lanka's foremost and pioneering herbal-personal care product manufacturer recently engaged in a sanitisation program involving 16 schools in Kandana. This endeavour was supported by the Kandana police and Ja-Ela Pradeshiya Sabha.

With the COVID-19 outbreak the Sri Lankan government decided to close down schools and educational institutions in the island for a period of over three months. The government decided to reopen these places in July 2020. Swadeshi came forward to support this move by sanitising schools and educational institutes in Ja-Ela and Kandana vicinity which provided a safe and healthy environment for students.

Swadeshi Industries provided sanitising liquid needed for this purpose to Kandana police station and installed hand-washing sinks in these places and also at main railway stations in the island including Kandana and Ja-Ela railway stations.

A spokeswoman for Swadeshi company said, "Swadeshi being a socially responsible company is dedicated to nurture a healthy generation of children in the country and we do various programs throughout the year to support this. Reopening process of schools and educational institutes in the island needed sanitisation to go hand-in-hand. Swadeshi came forward to do the needful. We are dedicated to provide an infection-free environment to students. We would continue with this sanitising program in future."

The Swadeshi Industrial Works PLC regularly does social development and children's welfare programs throughout the island. Facilitating programs to provide drinking water in rural areas covering schools, Pirivenas and villages is part and parcel with this CSR. The company also bestows knowledge to villagers on nurturing a generation of children with good values.

'Swadeshi Khomba Aloka Puja Sathkaraya' is the program done by Swadeshi company to illuminate the premises of Temples in the country in annual religious festivals.

Swadeshi has maintained its position for over eight decades as the specialist of the soap and the undisputed leader in herbal soap in Sri Lanka.

"At a pandemic situation like this, we would like to explain the natural disinfecting quality of age-old Khomba herbal soap with the trust of 80 years. People should not use unknown artificial disinfects that are harmful for the human body. Khomba herbal soap can be used by people with confidence," further said the spokesperson.

In the coronavirus pandemic situation Swadeshi has launched a hand sanitiser with kohomba as an extension of its Khomba herbal soap used for generations in Sri Lanka. The ingredient kohomba/margosa/neem is well-known for its quality of natural protection against germs.

The Khomba herbal hand sanitiser with kohomba, lemongrass and aloe vera introduced to the market by Swadeshi in this turbulent period is gaining popularity among consumers. This hand sanitiser is authorised by the National Medicines Regulatory Authority (NMRA). A 50 ml bottle is sold at an affordable price of Rs. 250 and it is safe on hands.

Recently, The Swadeshi Industrial Works PLC launched a campaign on the steps and briefing of good habits on washing hands with soap under the theme of 'Swadeshi Khomba Baby Hoda Purudu'.

Among the pioneer brands of this 100 per cent Sri Lankan owned company are; Khomba, Khomba Baby, Pearl white, Rani Sandalwood, Safeplus, Lak Bar, Lady, Black Eagle and the kids range, "Little Princess".

"Swadeshi is a company that looks forward to uplift the status of the society by providing quality herbal products. We are a one hundred percent Sri Lankan company thus we are determined to engage in CSR programs to help society. We came forward to help the society as a socially responsible company," she said.

The pioneer and market leader in the herbal personal care category in Sri Lanka, Swadeshi Industrial Works PLC, was commissioned in 1941.

From 1941 for 80 long years Swadeshi Company had been very careful in selecting raw material in its product manufacturing processes. Swadeshi products are one hundred percent free from animal ingredients. Also they are never tested on animals.

State-of-the-art machinery and modern technology used by the company adhering to triple bottom line has earned the company ISO 9001-2008 international standard certification.