Village Heartbeat Empowerment Centreopened in Oddusudan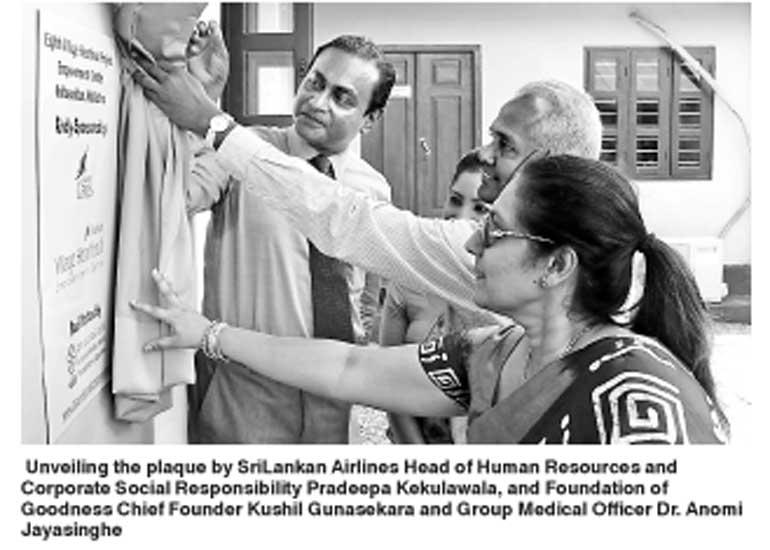 In keeping with its theme of child empowerment and improving quality of life in rural communities, the eighth Village Heartbeat Empowerment Centre was declared open in Oddusuddan in the Mullaitivu District on 1 September, a joint project of SriLankan Airlines and the Foundation of Goodness.

Making a commitment to the betterment of children and youth empowerment, SriLankan Cares joined hands with the Foundation of Goodness to construct the full-fledged training facility with the intention of developing the lives of underprivileged communities in the Northern Province of the country.

SriLankan Airlines Chairman Ajith Dias said: "We at SriLankan Airlines are extremely proud to lend a hand in securing a brighter future for these aspiring young men and women. Our CSR arm has contributed to a large number of community development activities since its inception in 2003. We are dedicated to improving the areas of health, education and talent of those who do not have the means of accomplishing their dreams. With the Village Heartbeat Project, we are one step closer to making their dreams a reality."

Foundation of Goodness Founder/Chief Trustee Kushil Gunasekara stated: "The Village Heartbeat Project is aimed at benefiting the rural community and alleviating poverty by empowering the youth of rural areas. It has been a wonderful journey working with SriLankan Cares to make this project tangible. Our country is blessed with amazing talent and skill in the rural sector which we continue to harness for the grater development of our Nation. We look forward to working with them in future endeavours."

The Centre was declared open by SriLankan Airlines' Head of Human Resources and Corporate Social Responsibility, Pradeepa Kekulawala, and Chief Founder of the Foundation of Goodness, Kushil Gunasekara.

SriLankan Head of Human Resources and Corporate Social Responsibility Pradeepa Kekulawala also shared his thoughts on the success of the project. "SriLankan Cares has always been in the frontline of the country's charity organisations. Children are the rightful owners of our future, and they should be given all the support and care that they require to grow into driven citizens who will take this country forward. Sri Lanka has an adolescent population of more than three million. However, greater levels of investment in education and youth training are needed, especially for higher levels of skills and knowledge. Such efforts can contribute towards breaking the root causes of poverty and discrimination and significantly contribute to the growth of Sri Lanka's economy. The energy, creativity and free-spirit of young people can be channelled to make a positive impact in society."

SriLankan Cares raised funding for the construction, equipping and maintenance of the Centre. The Foundation of Goodness provided land in Oddusuddan for the Centre, coordinated its construction and will carry out training programs and administration functions of the Centre.

In keeping with the three key areas on which SriLankan Airlines' CSR is based – health, education and talent – SriLankan Cares ventured into this program in order to aid aspiring youth in less developed areas to achieve their dreams by providing them with a multitude of facilities. The Village Heartbeat Empowerment Centre consists of a manifold of services ranging from computer training, English classes, women's enterprise courses, youth and women's empowerment programs, trauma counselling for war-affected children and spiritual training to improve their essence of life. The Foundation of Goodness and the MCC Centre of Excellence played a great role in making the offering of these courses possible.

The Foundation of Goodness has constructed such centres in several locations throughout Sri Lanka through the Village Heartbeat Project. The first centre was launched in 2007 at Udumulla near Hikkaduwa, followed by a similar one in nearby Rathgama, and then more centres farther afield in Monaragala, Batticaloa, Ampara, Jaffna and Matara.