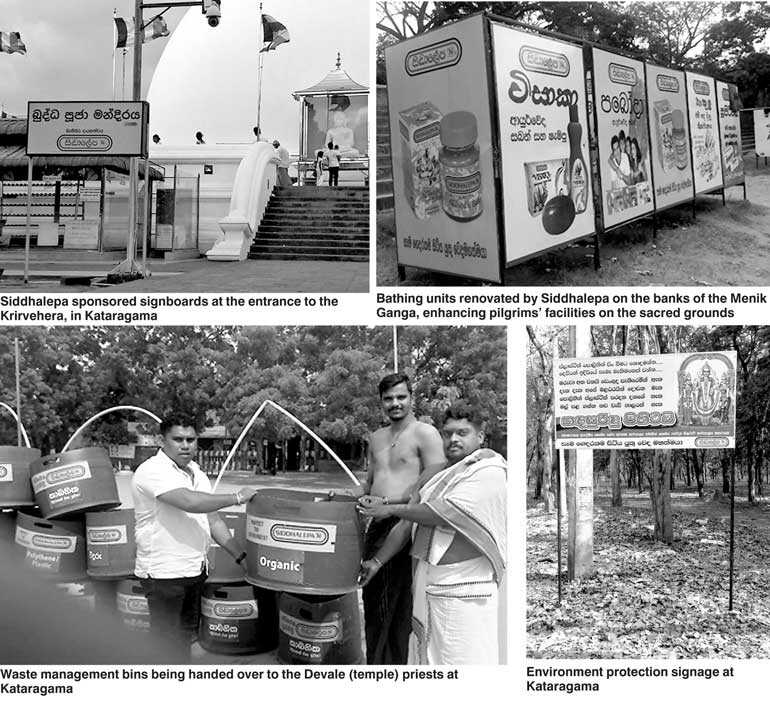 Siddhalepa increased its presence with enhanced CSR activities at the recently concluded Kataragama Festival, facilitating good hygiene for the throngs of devotees who visit the holy shrine in July every year.

Siddhalepa has been active in Kataragama for several decades, with their Lak Peyawadhansala for the hundreds of devotees who trek from the main Kataragama Devale to the Kirivehera, a trek of more than a mile.

This year Siddhalepa served their new drink AquaLive to all pilgrims at their dhansala which operated for two weeks from 13 to 27 July in Kataragama. The new Ayurveda health drink was the ideal refreshment to keep pilgrims hydrated and cool in the scorching tropical climate. The zero sugar, zero chemical, zero preservative healthy drink AquaLive comes in five fruit flavours and is made of a mix of Ayurveda herbs.

Siddhalepa has traditionally played a major role in creating a cleaner environment in places of worship and also provided refreshing health drinks and operated first aid services.

The Siddhalepa Group has been actively involved in waste management, preserving and protecting the environment in Kataragama holy city and its environs. This year the company donated 250 waste bins which pilgrims use to keep the holy premises clean. In recent years Siddhalepa has introduced the garbage separation system where separate disposables in different colours are supplied for plastic, polythene, paper, etc., for the convenience of the devotees and for easier garbage recycling.

Siddhalepa also renovated and built changing rooms on the banks of the Menik Ganga, for the convenience of pilgrims bathing in the river before entering the holy premises.

The company also renovated the flower shops along the road to the Devale.

Among the other CSR activities in Kataragama is the maintenance of the iron fence around the Kataragama temple, the contextual message boards, the notice boards at the three main entrances to the temple, the 12 concrete benches, the signposts and lamp posts in the area.

Protecting the environment and educating and encouraging the younger generation on the importance of saving our environment is one of the key focuses in the Group's CSR initiatives. Activities of the Group encompass important and popular places of worship of all religious disciplines, national festivals and cultural events.