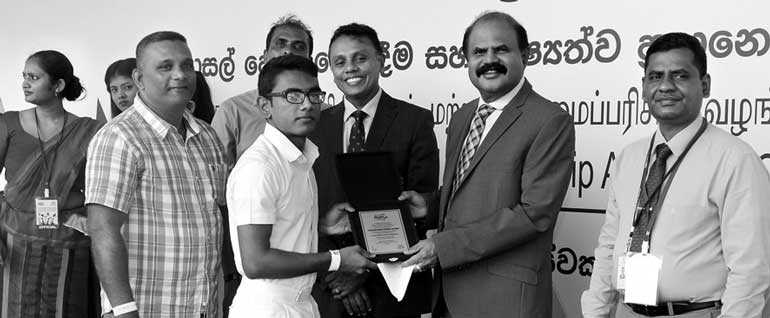 A student receiving an award from Sri Lanka Telecom Group Chairman Kumarasinghe Sirisena and SLT Human Capital Solutions CEO Roshan Kaluarachchi
Ensuring employees' children have a successful future, SLT Human Capital Solutions Ltd. (HCS), commemorated for the ninth consecutive year, the annual Sisu Diriya Scholarship and School Books Donation Program recently.

As the leading total HR Solutions organisation in Sri Lanka, renowned for its comprehensive portfolio of innovative HR solutions, SLT Human Capital Solutions Ltd. (HCS), a subsidiary of Sri Lanka Telecom, also places great importance in giving back to the community, especially its employees and families.

Jointly organised by the company and its Welfare Society, this much-looked forward to annual event was held at Leisure World, Hanwella with the participation of over 1,600 employees and their children.

SLT Group Chairman P.G. Kumarasinghe Sirisena, SLT Human Capital Solutions CEO Roshan Kaluarachchi, together with HCS senior management graced the program.

Founded in 2011, funds for the Sisu Diriya program are obtained through contributions from the HCS welfare society and also the company.

The main objective of organising this annual event is to encourage employees and thus extend further support to their children, who received scholarships and school stationary items ensuring continued success in their education.

Commenting on this joy-giving occasion, Group Chairman P.G. Kumarasinghe Sirisena said, "Among our main objectives has always been concerned with the need to appreciate the efforts of our employees and recognise their continued contribution and perseverance towards the betterment of the company. Our annual Sisu Diriya event is held towards this goal. I am extremely pleased with Roshan Kaluarachchi, CEO of HCS for his steadfast devotion and commitment to the company and in ensuring the program is held on a high note."

This year, as a further gesture of supporting the children, an additional 30 scholarships were awarded to students who had successfully passed their Grade 5 scholarship examinations, Ordinary Level examinations, and for those selected to enter local universities.

"The purpose of SLT Human Capital Solutions has always been to provide proficient human resource solutions to our clients. Sisu Diriya signifies the commitment and dedication we bestow on our employees and their families for helping us rise to such a prestigious position in society," noted Kaluarachchi.

Children from Grades 1 to 13 were awarded stationary items, inclusive of school books and bags, necessary for the upcoming school year. The children entertained all those attending the program with colourful dance and music acts also showcasing their talents.