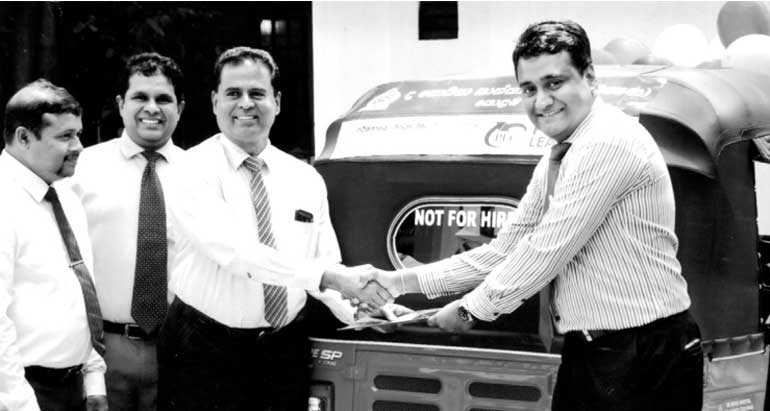 People's Leasing & Finance PLC (PLC) affiliated to the People's Bank enjoys its position of being one of the leading non-bank finance companies in Sri Lanka. With due consideration on the impact of its business operations on environment and society, PLC spearheads outreach Corporate Social Responsibility (CSR) initiatives to promote environmental sustainability, education/early childhood development and empowerment of local communities by addressing under-met societal needs as its key CSR focus areas.

The company recently engaged in two outreach CSR initiative towards the upliftment of the early childhood development by improving the quality of paediatric patient care at two leading hospitals in Colombo including the Lady Ridgeway Hospital for Children and the De Soysa Hospital for Women in Colombo.

The Lady Ridgeway Hospital for Children (LRH) is the largest children hospital in Asia in terms of bed capacity and PLC refurbished the Accident and Emergency Service and the Auditorium of the Lady Ridgeway Hospital for Children. People's Leasing DGM (Marketing) Laksanda Gunawardena and LRH Director Dr. Ajith Dantanarayana graced the occasion.

Chief Manager – Marketing Vajira Ramanayake and representatives of the CSR team participated from PLC. Representing the LRH were Dr. Dulani Amarasinghe (Medical officer in-charge – Accident Services), V.S. Rathnayake (Sister in-charge of Accident Services) and Ajith Susantha (In-charge of the Auditorium).

Around 150 children daily seek treatment from the Accident Service of the hospital mainly due to road accidents, wounds from burns, pet bites, cuts from sharp tools, falls from staircases and electrocution.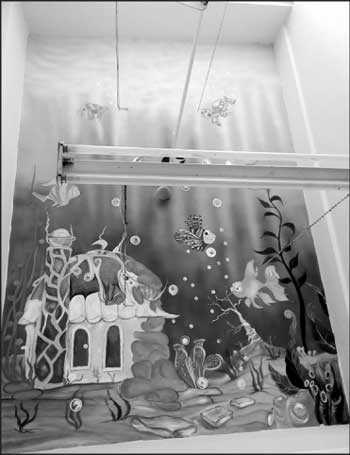 The Accident and Emergency Service was refurbished after 19 years and the entrance to accident service, plaster-of-paris room, emergency treatment unit, wound dressing room, pharmacy and treatment room include the areas refurbished and colour-washed by PLC. Further the ceiling of the plaster-of-paris room, wound dressing room and post treatment observation room in ward 13 were painted with hand paintings.

Moreover, a digital sign-board was installed at the entrance of the Accident and Emergency services to help patients, their family members and visitors to locate and access the accident service fast. The auditorium of Ridgeway Hospital was also refurbished by the PLC which is being frequently used to conduct both international and local conferences, workshops and training programs for both local and foreign participants.

Dr. Ajith Danthanarayana stated that the emergency unit of the hospital treats over 150 children on a daily basis and is supported by the government and the private sectors to provide better services. "We welcome the support of the private sector to improve the patient care and PLC came forward without any hesitation to support the noble cause. PLC has indeed contributed a lot to improve patient care in this accident service beyond our expectations and we are grateful to PLC," he added.

Emergency Unit's Sister in-charge, V.S. Rathnayake said, "Around 150 children are being brought daily to Accident Services and around 40 of them are admitted to Ward 13 for further treatment. PLC did a remarkable job to improve patient care in our section. We witnessed that decorating the ceilings with colourful paintings helps to pacify the minds of children in pain while they are being treated."

PLC also refurbished the leading women's hospital in Colombo, De Soysa Hospital for Women. Presentation of a brand new three-wheeler to transport blood samples, urgently required medicines, presentation of two air-conditioners to the labour room of Ward 5 and providing partition curtains for Ward 15 and its labour room took place in the presence of the former Director of the De Soysa Hospital, Dr. Sugath K. Dharmaratne.

Dr. Sagarika Kiriwandeniya who is the present Directress of De Soysa Hospital for Women commenting on the presentation made by PLC said, "Sri Lanka is a country that offers free medical service to general public at a huge cost. Hence, we value private sector assistance. PLC did a great contribution to enhance our patient care. May PLC have strength to continue this kind of CSR initiative."

PLC DGM – Marketing Laksanda Gunawardena said, PLC is an organisation which is dedicated to enhance the status and social wellbeing of people of the country as a responsible corporate citizen.

"We conduct this kind of initiatives throughout the year islandwide engaging our branch network. We hope that we have contributed to improve paediatric patient care and PLC would wish to continue to invest in similar initiatives in the future as well."