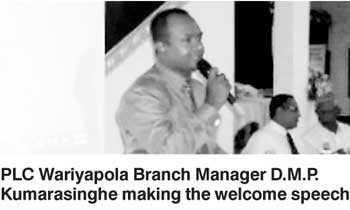 The number one non-bank finance company in Sri Lanka, People's Leasing & Finance PLC in a bid to enhance proficiency levels of entrepreneurs and business community based in Wariyapola held the seventh edition of the 'Diri Diviya' CSR at Wariyapola.

The program was fully sponsored by the People's Leasing Wariyapola branch and customers and SME sector businessmen in the vicinity participated.

Enhancing entrepreneurship and financial literacy among SME sector is one section of People's Leasing's five-fold CSR strategy. Diri Diviya CSR being the program to contribute towards this endeavour is done on island wide basis by People's Leasing as a socially responsible company for the benefit of its customers and the business community as a whole.

Diri Diviya program in Wariyapola shed light on attributes a person should develop to become a successful entrepreneur, business management principals, finance management, taxpaying, maintaining accounts and business reporting.

This one-day program also had many activities as, presentations, networking opportunities and a discussion with a successful businessman to derive knowledge on practical aspects of being an entrepreneur and facing various challenges as an entrepreneur.

All who attended the program were awarded certificates and a handbook that contained subjects discussed at the program.

The seventh edition of the Diri Diviya CSR at Wariyapola was graced by Sampath Sri Ekanayake, a visiting lecturer at Colombo University, a senior trainer in the industry and service section, Past advisor of Embilipitiya leadership training school, Thilakaratne Bandara, Chairman, Provincial Council, Wariyapola, Deputy Commissioner, Income Tax Department, Kurunegala district, R.A.N. Wijesinghe, Proprietor, Supen Company, Kurunegala, D.M.P. Kumarasinghe PLC Wariyapola Branch Manager, and many other guests.

R.A.N. Wijesinghe – Proprietor, Supen Company, Kurunegala making a special presentation said how he commissioned his business and developed it to the present status. He shed light on tax paying and indirect payment systems prevailing in Sri Lanka at present which was appreciated by novice entrepreneurs who were present.

D.M.P. Kumarasinghe PLC Wariyapola Branch Manager, speaking at the occasion said he is content for being able to engage in the noble cause, Diri Diviya for the benefit of PLC customers and entrepreneurs in Wariyapola. "The huge participation by entrepreneurs today for Diri Diviya program is testament to the success of our team effort. I appreciate the dedication of my workforce to make this event a success. Sri Lanka at present is experiencing an economic transformation. To make this change worthwhile the country needs contribution by entrepreneurs. PLC came forward to enhance capabilities of entrepreneurs via Diri Diviya as a national service. We thank the participants and resource persons of Diri Diviya," he said.

People's Leasing was commissioned in 1995 as a wholly owned subsidiary of the biggest state bank in Sri Lanka, the People's Bank. PLC is currently the market leader in the non-banking finance sector in Sri Lanka.



Fitch Rating Lanka has assigned PLC a credit rating of AA- (lka) which makes PLC the highest rated finance company in the country. PLC is the only Sri Lankan finance company to have two international ratings of which one is equal to the Sovereign from Standard & Poor's ('B+/B') and the other is one notch below the Sovereign from Fitch Rating International ('B').

Financial services product portfolio includes; leasing, fixed deposits, savings accounts, personal and business loans, margin trading, factoring and Islamic financial services.

People's Leasing conglomerate consists of five subsidiaries namely, People's Insurance PLC, People's Microfinance Ltd., People's Leasing Property Development Ltd., People's Leasing Fleet Management Ltd. and People's Leasing Havelock Properties Ltd.

The uniqueness of PLC is its strength and the stability to provide diverse financial solutions under one roof to its customers, thus enabling the customers to obtain convenient and customer friendly services.