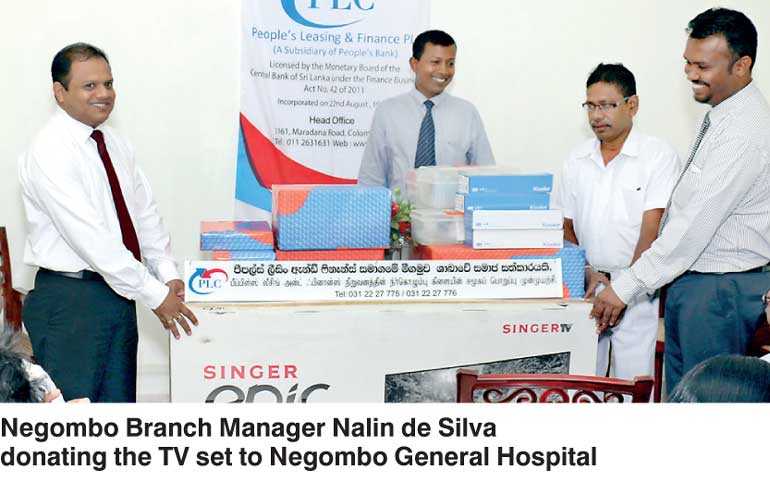 People's Leasing & Finance (PLC) Negombo branch celebrated its 15th anniversary recently at the branch premises, with the participation of PLC's Senior Management, Negombo Branch Manager Nalin de Silva, and many stakeholders including customers of the Negombo branch.

To coincide with the occasion, a CSR activity was carried out by the PLC Negombo branch. Negombo Branch Manager Nalin de Silva along with his staff donated a TV set to the Negombo General Hospital's OPD section. These were received by Hospital Director Dr. Hemantha Ranasinghe and Deputy Director Dr. Sumith Anton.

PLC's Negombo branch was commissioned in October 2002, and today has a staff of 23 and assets worth over Rs 2.5 billion. It is recognised as one of the best PLC branches outside Colombo.

The branch offers constant leasing and financial services to over 2000 customers in the vicinity, and is a reputed financial entity in Negombo.

Negombo Branch Manager Nalin de Silva speaking at the occasion said: "PLC was first commissioned within the People's Bank with only three people and PLC Negombo branch too followed suit. Over the past 15 years, we have built close relationships with people in Negombo and did business with the intent of upgrading their lives, thus we achieved these feats. I pay my gratitude to our customers who were the backbone behind the success story of PLC Negombo branch. My staff members worked as a team all these years to meet the company's objectives and to elevate the status of the Negombo branch. I pay my gratitude to them at this significant occasion."

People's Leasing Company PLC was commissioned in 1995 as a wholly owned subsidiary of Sri Lanka's biggest state bank in Sri Lanka, the People's Bank. Today, People's Leasing is currently the market leader in the non-bank finance sector in the country.

Fitch Rating Lanka has assigned PLC a credit rating of AA-(lka), making it the highest rated finance company in the country. PLC is also the only Sri Lankan finance company to have two international ratings. Among these, one is equal to the Sovereign from Standard and Poor's ('B+/B') and the other is one notch below the Sovereign from Fitch Rating International ('B').

PLC's financial service product portfolio includes leasing, fixed deposits, savings accounts, personal and business loans, margin trading, factoring and Islamic financial services.