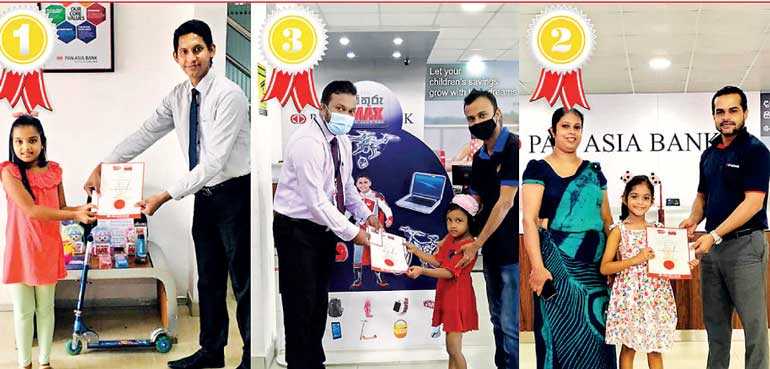 The winners of the art competition, M. Ruvee Niwya Mallawarachchi (1st Place) A.M. Sasvi Newanma Alahakoon (2nd place) and H.T. Sadasi Samathka (3rd Place) are seen receiving their certificates from the respective Pan Asia Bank branch managers
With the view of encouraging creativity and positivity among children during the challenging times resulted by the COVID-19 pandemic, Pan Asia Bank, the truly Sri Lankan bank conducted a children's art competition under which the theme was saluting frontline workers spearheading the nation's battle against the disease.

The art competition was organised for children under 10 years of age and the bank received an overwhelming number of entries from children who thoroughly enjoyed the creative experience. The 26 best paintings were selected and posted on Pan Asia Bank's Facebook page, while the final winners were selected on basis of the number of Facebook likes obtained by each contestant. M. Ruvee Niwya Mallawarachchi (1st Place), A.M. Sasvi Newanma Alahakoon (2nd place), and H.T. Sadasi Samathka (3rd Place) were the winners of the competition.

Taking note from the success of this competition, Pan Asia Bank plans to organise similar competitions at regular intervals to ensure children remain occupied in positive activities while staying safe at home. Reaching out to children has been one of the key endeavours of the Bank which has always inculcated the savings habit in children through such unique initiatives. The Bank's commitment to support the future generations of the country is most evident in its innovative children's products Mithuru Max and Daskam Children's accounts.

With an array of attractive gifts with Mithuru Max or a 10% bonus deposit for every deposit with 'Daskam,' Pan Asia Bank has not only differentiated children's savings accounts from other children's savings products, but has also begun to instil in their young minds the importance of saving.

'Daskam' children's savings account aims to be a pillar of strength to a child when he/she enters adulthood and takes on life's challenges such as higher education, marriage, etc. The account offers a unique 'deposit for deposit' feature that enables its balance to grow in greater proportions. Under this feature, every deposit made by the customer to the account will be rewarded by the bank with an additional deposit worth 10% of the customer deposit.

In addition, for faster growth of the account balance, Pan Asia Bank then pays an annual interest of 6% (AER 6.17%) on the total balance. The interest is calculated on a daily basis and credited to the account at the end of each month. For example, if a customer deposits Rs. 100,000 to a 'Daskam' children's savings account, the bank will make an additional deposit of Rs. 10,000 to that account immediately and begin to calculate interest at 6% (AER 6.17%) on the total balance of Rs. 110,000.

The benefit of receiving an additional 10% deposit from the bank is valid for any number of deposits until the child turns 12 years of age.

At the core of 'Daskam' children's savings account is Pan Asia Bank's commitment to provide a stable financial foundation for children when they turn 18, at which point they need to support for their higher education dreams, etc.

Meanwhile parents can also gift their children a Mithuru Max Savings account which can be opened with a minimum deposit of Rs. 500, and all children below 13 years of age are eligible to receive attractive gifts based on their account balance and the gifts are issued from any of the 85 Pan Asia Bank branches located island-wide.