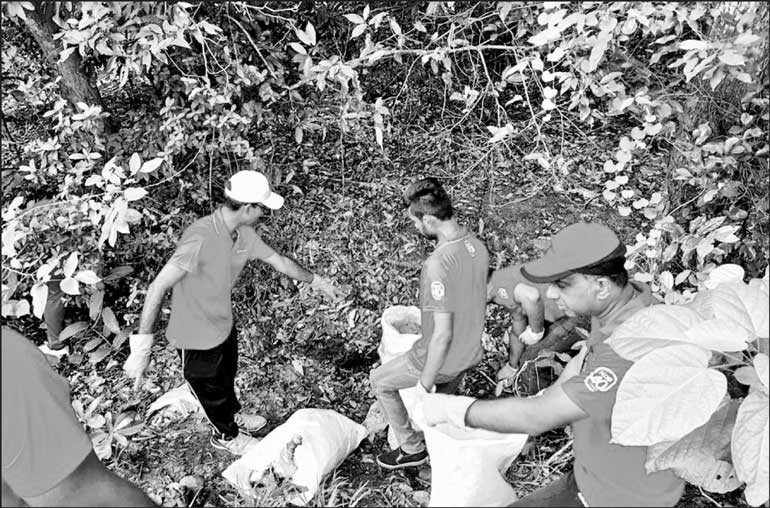 NDB Volunteers Implement a Eco Project to Protect the Panirendawa Forest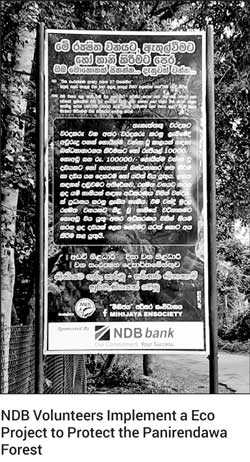 Panirendawa Forest Reservation is situated in the cross border of Kurunegala – Puttalam District with an extent of 450 hectares adjourning to Madamape Town in Chilaw. The forest is home to many animal species such as monkeys, number of seasonal birds, rabbits, deer, foxes, giant squirrels, peacocks, porcupine, leopards and various species of reptiles.

The roadside of the forest was highly polluted with commercial and residential garbage, dumped by people on the roadside of the forest reservation. High volumes of polythene garbage posed a threat to the animals in the forest. Deforestation and illegal hunting was also prevalent. Furthermore, there was a scarcity of water and food for the animals during certain seasons.

The Bank's North Western region identified these problems and selected this as their Employee Volunteerism project for 2019. Over 50 volunteers joined the officials of the Forest Department and Environment Authority (FDEA) to clean this area. An educational seminar was also conducted by FDEA to over 200 students and teachers at Abhaya College Madagama, on 'How to Save the Environment and Panirandawa Forest for the Future'. Government authorities in the area also participated in this session.

The team also put up educational boards at the entrance to the forest, with information about the history and other important aspects of the forest. Another eight boards were put up on the roadside with eco messages with a view to change attitudes of people and prevent environmental pollution. Fences were also fixed to prevent unauthorised entrance to the forest. Feed structures were set up to enable the forest authorities to provide food and water to the animals during seasons when food was scarce.

A public awareness campaign was also conducted by the NDB Volunteers educating the public on the importance of protecting the environment. Rain jackets and boots were donated to the Forest Department Officers of Puttalam and library books were donated to Abhaya College. The project was concluded with the planting of 300 fruit bearing plants in the Madagama area and the Panirendawa Forest with the objective of providing fruits for the animals.

The project directly benefits over 1,000 villagers in the area as well as the animals in the forest.

As a responsible corporate citizen, Employee Volunteerism is a key CSR Initiative in the Bank's CSR agenda.

NDB Bank, which is the first and to date the only corporate in Sri Lanka to officially be certified with EDGE Certification is a premier retail Bank with over 112 branches across the island, serving millions of Sri Lankans through a host of financial services. From its inception, the NDB Group which includes NDB Bank, NDB Capital, NDB Investment Banking, NDB Wealth, and NDB Securities has been a catalyst in the development of the nation, strengthening and empowering entrepreneurs, corporates and individuals from all strata of the economy. Customers across all group companies have benefited from the product and service offerings of the NDB Group.