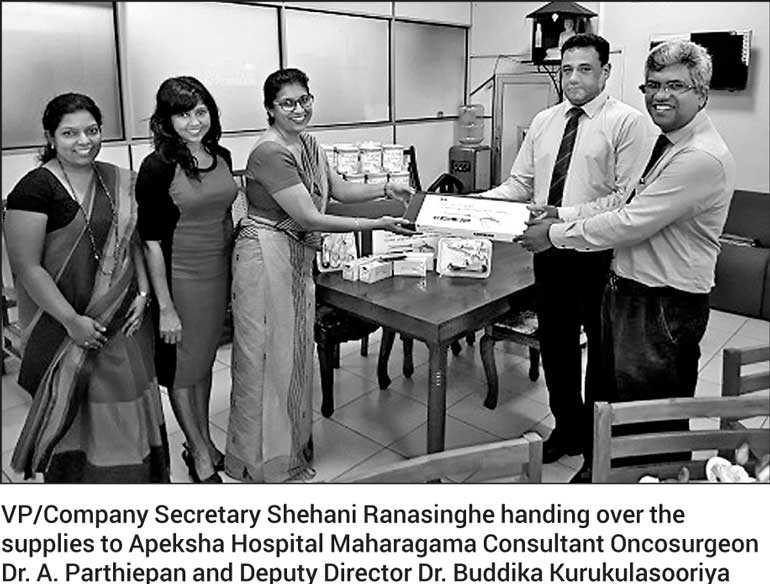 NDB recently made a donation of medical necessities, nutritional supplements and surgical consumables to the Apeksha Hospital Maharagama as a part of the Bank's Corporate Responsibility strategies.

The donated items included post-operative salves and liniments which the patients cannot afford to purchase on their own. These items are vital to prevent bacterial infections as well as speed up the healing process. The items donated were identified by the doctors and hospital staff of Apeksha Hospital as essentials in short supply.

As a responsible corporate citizen, NDB strives to make meaningful contributions to the society through its strategic sustainability initiatives that aim to inspire the sustainable growth of a progressive Sri Lanka. Sustainability is a strategic priority at NDB and the Bank continuously endeavours to foster it across all its business decisions and activities

NDB Bank is the parent company of the NDB Group, one of the fastest growing financial services conglomerates in Sri Lanka, with the strategic mission to be the dominant leader in the financial services and banking sector. From its inception, the group which includes NDB Bank, NDB Investment Banking, NDB Wealth, NDB Securities, and NDB Capital has been a catalyst in the development of the nation, strengthening and empowering entrepreneurs, corporates and individuals from all strata of the economy. Our customers across all group companies have benefited from the product and service offerings of the NDB group.