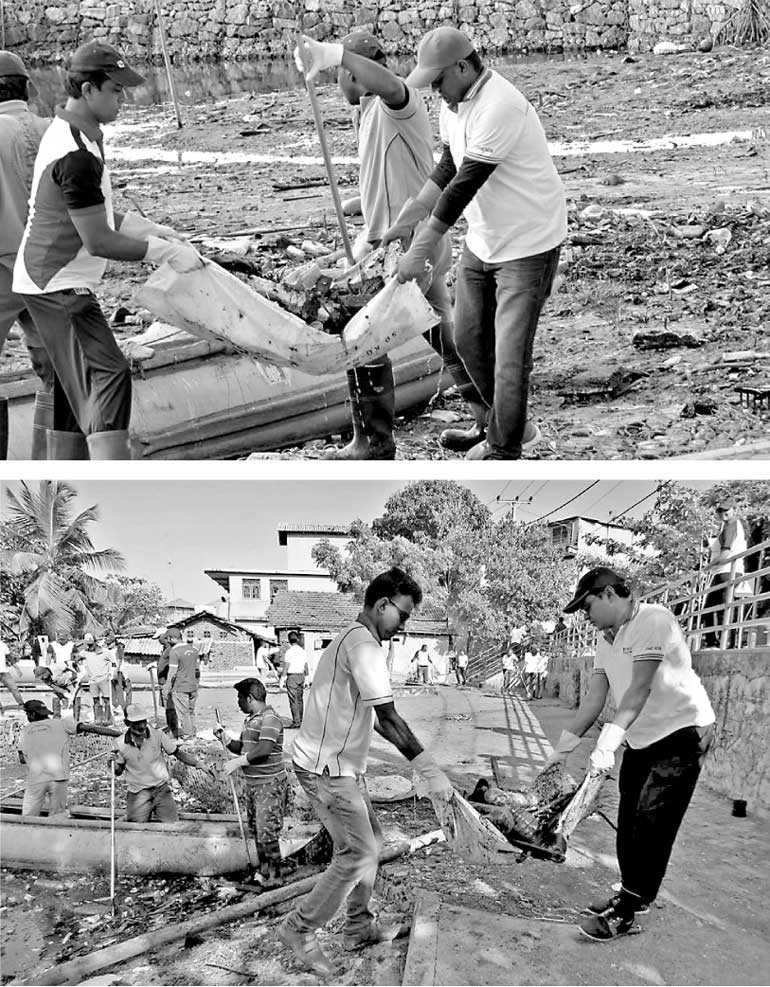 With a view to making 'Responsible Behaviour' an integral part of the Bank, NDB commenced an environmental clean-up project in front of Mohandiram Ground – Negombo. Accordingly, the program was conducted by NDB employees and the Negombo Municipal Council.

The volunteers thus removed all non-biodegradable waste including plastic products like grocery bags, plastic bags, bottles, metal cans, metal scraps, construction wastes, rubber and styrofoam in the area by cleaning part of the lagoon boarder which is exposed to the general public, with the assistance of Municipal Council – Negombo.

Furthermore, the Bank's employee volunteers also fixed a garbage protection net including rigifoam balls – known as the 'Boyawa' – to prevent the area from plastic and rigifoam coming though the lagoon in order to maintain the sustainability. Additionally, the Bank also fixed garbage bins for waste paper, plastic, glass, and biodegradable disposal covering Negombo city limits.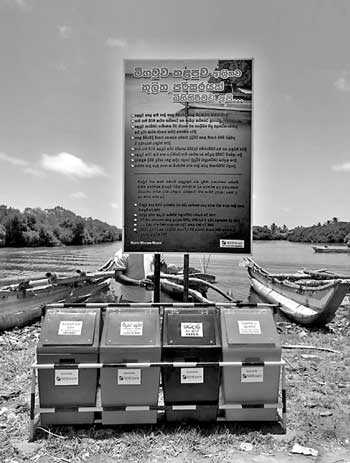 In order to maintain the conservation of the environment, a special board was displayed mentioning the ways of protecting the environment. Furthermore, the Bank also distributed brochures to create public awareness on the correct methods of disposing garbage while placing foliage plants, concrete benches for public usage and planted trees to uphold the beauty of the environment.

As a responsible corporate citizen, NDB believes that 'Community Involvement' goes beyond core business activities and with an objective of creating value through employee participation, the Bank encourages its employees to volunteer their time and effort to give back to the community.

Employee volunteering programs can allow workers to feel that the work they do is not only contributing to the overall success of the company, but that it is also helping out a charitable cause that is important to them. Whilst, inculcating responsibility towards the community and environment in all NDB employees, this initiative also motivates them to venture out on their own and implement their own projects.

NDB strives to make meaningful contributions to the society through its strategic sustainability initiatives that aim to inspire the sustainable growth of a progressive Sri Lanka. Sustainability is a strategic priority at NDB and the Bank continuously endeavours to foster it across all its business decisions and activities.

NDB's performance and customer relations were recognised when the Bank was recently named the "Best Bank in Sri Lanka" by the prestigious Global Finance Magazine at the 25th Annual Best Bank Awards in the Asia Pacific. Further details on NDB's many products can be obtained from its 24 hour Call Centre, by calling 011 244 8888 or by visiting NDB Bank's website on www.ndbbank.com.