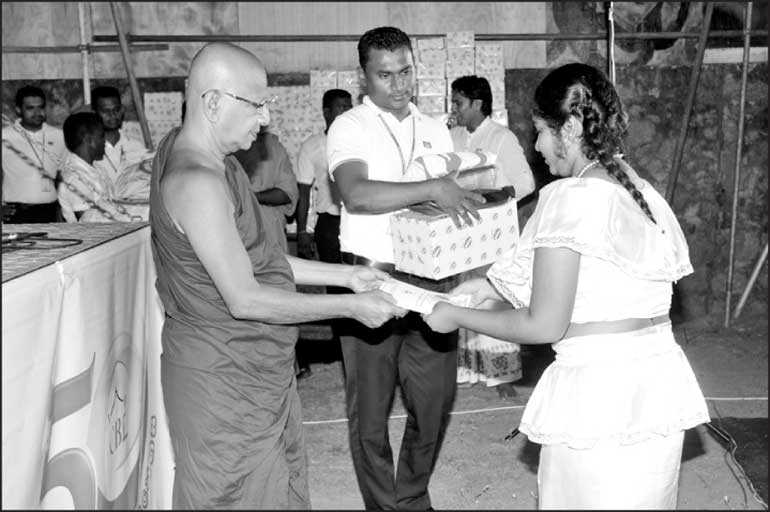 Chairman of Madhayama Nuwaragam Palath Sasanarakshaka Balamandalaua Aluthbogamuwe Sadharansi Nayaka Thero handing out gifts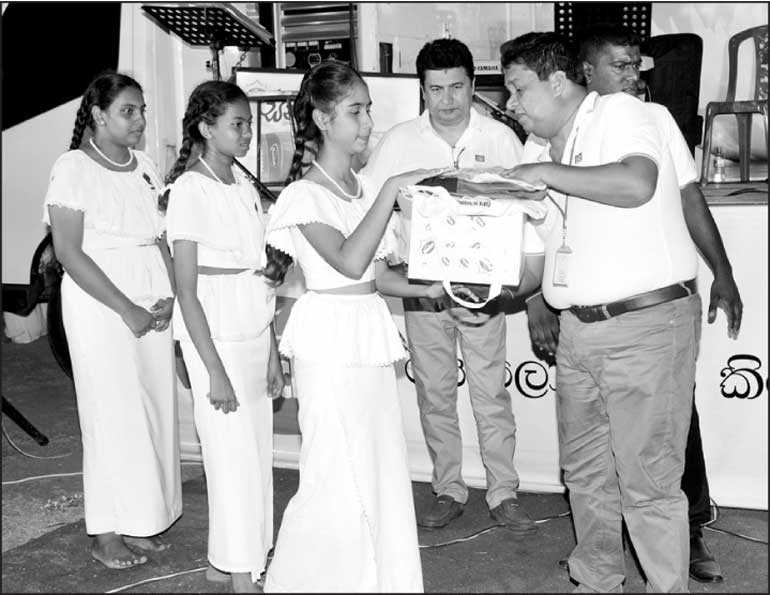 CBL team rewarding participants
Distinguished guests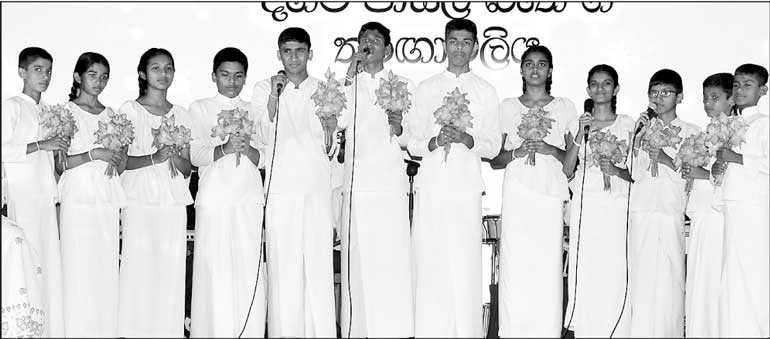 Participants
Munchee, the market leader in Sri Lanka's biscuit manufacturing industry, recently concluded their Poson Poya Day Program, comprising of Bhakthi Gee and Poem Writing (Padya Rachana) competitions, organised in association with the Madhayama Nuwaragam Palatha Sasanarakshaka Balamandalaya and the Madhayama Nuwaragam Palatha Divisional Secretary's office. The finals and awards ceremony were held on 17 June near Sandahiruseya, Anuradhapura.

As Poson Poya celebrates the arrival of Buddhism in Sri Lanka, it is a festival of great historical and religious significance celebrated island-wide. This special day commemorates the occasion when Arahat Mahinda, son of Emperor Asoka of India, converted King Devanampiyatissa to Buddhism. Celebrating this occurrence, Munchee's Bhakthi Gee competition was held in Anuradhapura due to Mihintale being the main centre of celebration during Poson. The event resulted in crowds joining in chorus while showcasing their festive spirit and thus, completing many CSR initiatives that were put in place by Munchee to mark this Poson season.

In attendance on this much anticipated day were a number of special guests including Aluthbogamuwe Sadharansi Nayaka Thero, Chairman of Madhayama Nuwaragam Palatha Sasanarakshaka Balamandalaya, Brigadier Lama Hewa, 212 Brigade Commander, Janmesh Paul Anthony General Manager Marketing of CBL, Sujeewaa Watteweva, Sales Manager of CBL and Colonel Upali Bandara, Coordinating Officer, Sandahiruseya Project were also present.

1,500 children from around 100 daham schools in the Anuradhapura region participated in this competition which was organised for the second consecutive time. With 15 schools making it into the finals, the top three schools emerged as; Gamunu Daham Pasala – Nuwarawewa, Sri Dharmaloka Daham Pasala – Viharabulankulama and Sri Sugatharama Daham Pasala – Bogahayaya respectively.

The audience were treated to a series of performances by the winning schools following the announcement of their victories. The individual winners of the Padya Rachana Poem Writing competition were also announced during this event. The top three were: P.H. Imesha Isurindi, S.A. Pramudi Bhagya, and G.W. Prarthana Kaushalya respectively.

The top three winners under both categories were awarded valuable prizes courtesy of Munchee. As these schools and individuals come from rural areas of Anuradhapura, these prizes were more than welcomed in order to uplift the standards of these societies. In addition, the other top performers that did not make it into the top three were also commended for their efforts; Munchee distributed a number of gift packs.

These were well received by all of the school children as Munchee is a Sri Lankan brand that is loved by many. All of the prizes handed out were distributed by representatives from Munchee who are among managerial and executive positions within Munchee's sales, marketing, and territory divisions.

As a truly Sri Lankan brand Munchee has always remained at the forefront of Corporate Social Responsibility involving many areas including education, arts and culture, sports, disaster relief and community development.

This initiative by them is yet another effort to strengthen and unite Sri Lankans together with bonds that are common to all.

As Munchee organised multiple activities this Poson season, the Bhakthi Gee and Poem writing competition is one of the many examples of their efforts being lauded by the general public.