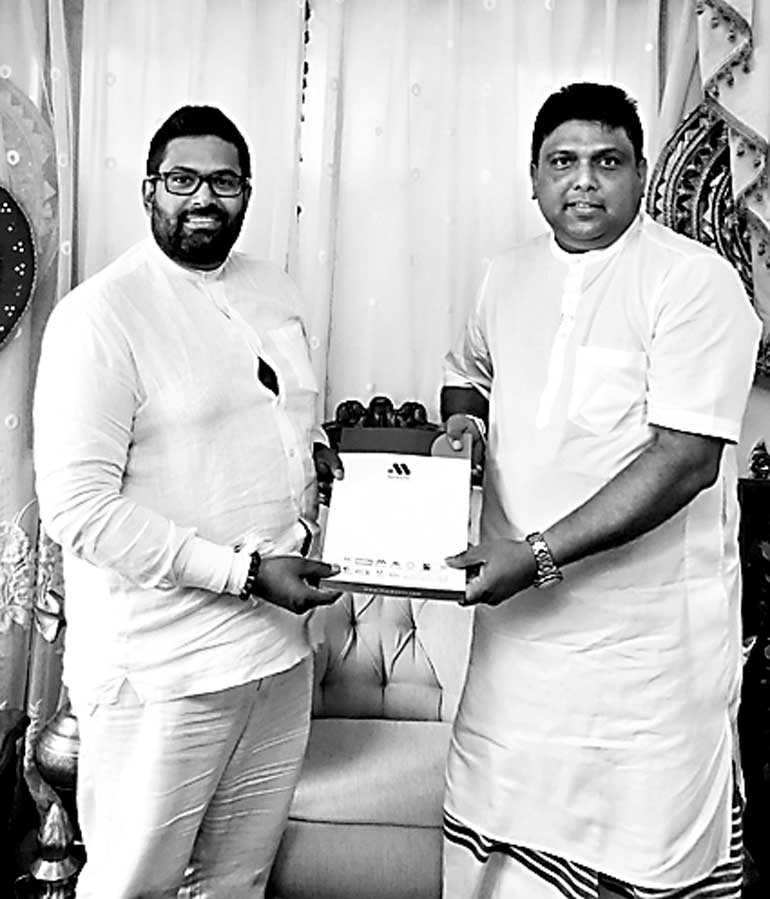 Multilac General Manager Sales and Marketing Ramesh Perera handing over the sponsorship cheque to Basnayaka Nilame Dilruwan Rajapaksa
Demonstrating the true message of reconciliation on a global scale, the historic Ruhunu Maha Kataragama's Esala Perahera festival took place on a grand scale from the 3-17 July under the theme, 'Suriduni Kataragama – Surakimu Samagidhama' and sponsored by the nation's leading paint manufacturer Multilac.

Annually, the Maha Perahera festival attracts a great multitude of people across Sinhala and Tamil communities in addition to all other ethnicities. As a result the Ruhunu Maha Kataragama Devalaya's Esala Perahera is glorious in demonstrating the spirit of reconciliation as well as showcasing a beautiful cultural pageant.

Multilac as an organisation comprises Sinhala, Tamil and Muslim employees with varied religious beliefs, who communicate across many languages and regardless of race work together in true fellowship. Multilac's decision to sponsor this year's Perahera festival which was held under the theme 'Suriduni Kataragama – Surakimu Samagidhama', demonstrates the company's deep commitment in promoting continuous reconciliation and coexistence among all Sri Lankans.

While thousands of devotees from every part of the country flock to participate in the Ruhunu Maha Kataragama's Esala Perahera festival, the surrounding areas becomes littered with garbage overflowing.

As a result, residents of the areas, devotees and wildlife face severe hardships due to environmental issues. Annually the Kataragama Youth Environment Society, volunteer to clean the surrounding locations as they remain committed to ensure the environment is safeguarded for future generations.

In appreciation of carrying these virtuous acts and in line with the organisation's corporate social responsibility program, Multilac presented the Kataragama Youth Environment Society, with uniforms to be worn during the year.



In addition, the company distributed leaflets in Sinhalese and Tamil, among the devotees and visitors who flock to Kataragama on the importance of maintaining the beauty of the surrounding environment by not littering, protecting the sacred site and also behaving in a pious manner.

A unique sight was the presence of over 100 Multilac employees who were present in Kataragama during the entire Ruhunu Maha Esala Perahera festival period, helping to ensure the sacred area was clean.

Promoting this year's theme, 'Suriduni Kataragama – Surakimu Samagidhama' and also attired in t-shirts with slogans such as 'Sobadhahame Pata Thaveru – Dev Viman Dora Malin Athiru', these Multilac employees laboured day and night, keenly undertaking the task of maintaining the beauty and cleanliness of the sacred site.