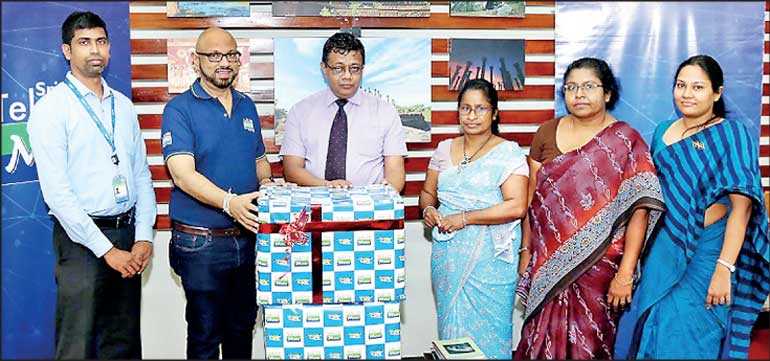 From left: Mobitel Product Manager – Digital Health Services Madura Hewage, Mobitel Chief Marketing Officer Shashika Senerath, Archaeology Department Director General Dr. Senarath Dissanayaka, Additional Director General P.A.S. Borelessa, Director (Chemical Conservation) K.G.R. Kuruppuarachchi, Asst. Director (Chemical Conservation) T.M.H. De Silva
As a national mobile service provider, Mobitel has spearheaded the corporate sector in the battle against COVID-19 in numerous ways.

Going one step further, Mobitel donated face masks to the Department of Archaeology as part of its CSR initiative.

This endeavor will facilitate field officers from the Department who often work at sites where general public gather to carry out their day-to-day operations in a safe and hassle-free manner.

Mobitel has collaborated closely with the Department of Archaeology Sri Lanka on various occasions and is pleased to be able to benefit their staff through donating face masks while fulfilling its duty as a responsible corporate citizen.

Mobitel has assisted many additional services during the lockdown period such as e-learning, e-healthcare, work from home, online payments and so on via mCash and eChannelling services to facilitate audio/video consultation and mLearning platforms for greater customer convenience.

By transacting on these platforms, Mobitel customers could stay indoors and safely enjoy the services at their fingertips.

Mobitel social media channels disseminated official COVID-19 messaging from World Health Organization (WHO), Health Promotion Bureau, UNICEF, and Sri Lanka Army.

Mobitel also facilitated work from home through Pre-Paid plans to Bonus Data add-ons, Health Advisory Services, Digital Payment solutions and 100% Data extensions for post-paid customers – easily accessed through www.mobitel.lk or the Self-Care App and has customised enterprise solutions for SMEs and corporates, offering abundant data connectivity based on business requirements at competitive prices.