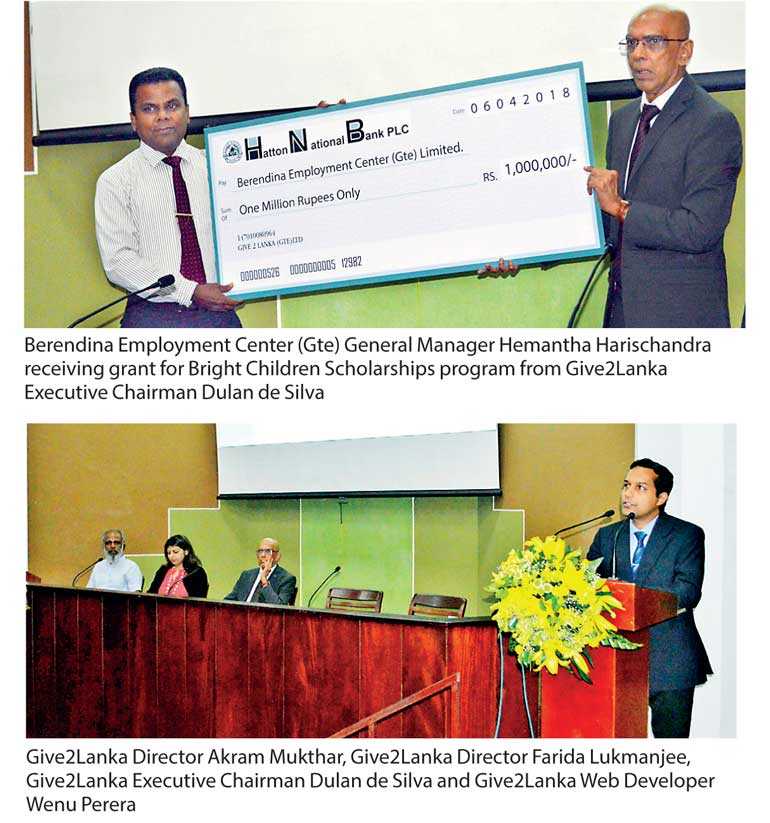 Donates proceeds of raffle draw to Berendina Bright Children Scholarship
Local non-profit crowd-funding platform Give2Lanka (Gte) announced the launch of their new website for fund raising in support of the work of NGOs who focus on children's education and related needs.

Bright Children Scholarships, the flagship program supported by Give2Lanka, is implemented by Berendina and effectively designed to support hand-picked students through their Advanced Level to Undergraduate studies in two phases of scholarship disbursements. Give2Lanka donated a grant to Berendina towards this program and subsequently conducted a fundraiser to further the initiative.

"We believe that education is fundamental to empowerment. Today's launch of the Give2Lanka website serves as an opportunity for Sri Lankans who share this belief to learn more about the important work that we do, and contribute what they can towards educating and empowering a new generation of Sri Lankans," Give2Lanka Executive Chairman Dulan de Silva said.

Children from families who are Samurdhi benefit recipients or earning a per capita income less than Rs. 5,000, are selected for the scholarship if they have achieved more than 6 credit passes including a 'B' pass for Mathematics at the GCE (O/L) examination.

On the completion of Advance Level, all students are provided with career counselling. Students who fail to obtain good results are linked to employment in one of the 300+ companies that Berendina has entered into partnerships with. Those who are able and willing to pursue further studies are provided up to Rs. 50,000 to support studies in over 30 courses including AAT and other diplomas in highly employable sectors.

Having already reached over 2,500 students since the program was first initiated in 2015, the Bright Children Scholarship aims to double its efforts over the coming year, to reach at least 5,000 students per year moving forward. The program continues to draw support from a wide spectrum of Sri Lankan society including eminent personalities such as respected Sri Lankan Diplomat Dr. Jayantha Dhanapla, Central Bank of Sri Lanka Governor Dr. Indrajith Comrasawamy, former Sri Lankan Ambassador to the Netherlands Prof. Hiran Dias, respected corporate leader Hemaka Amarasuriya and former CEO of CEPA Priyanthi Fernando.

For more information about the Bright Children Scholarship visit: www.give2lanka.org and www.jobsberendina.com.