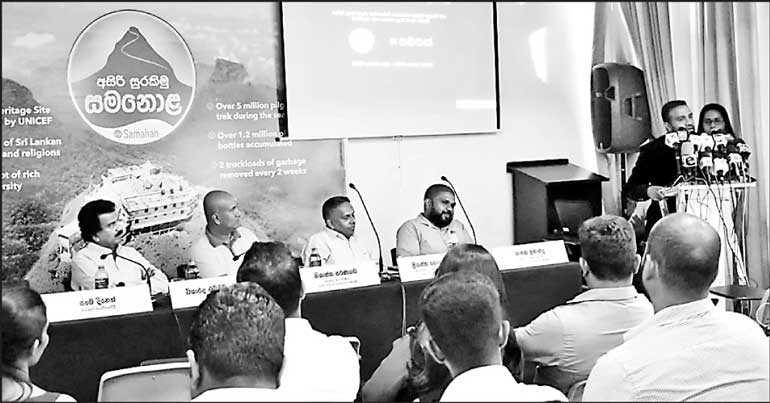 Although Adam's Peak is the third highest mountain in the central mountain range, when we consider its economic, social, environmental and cultural impact on Sri Lanka, we can consider indubitably, that it is the most important mountain in our country. It is a famous religious place among the general public, because of the keen interest in worshiping the holy footprint, and thousands of people in different religions visit this place. Therefore, it gives an invincible contribution to the religious co-existence.

However, this interest among visitors leads to a serious garbage problem and adversely affects the natural beauty of Adam's Peak. If the above-mentioned actions take place continuously, evading of the value in Adam's Peak is in the near future.

"Adam's Peak is one of the Sri Lankan identities. It makes a great contribution in developing the country's economic, social and cultural dynamics."

"Mahawel Kalani walawe kalu yana ganga

Samanala kanda mudune sita pena nenga

Bawum thenithala hel atharin ringa

Mewa galai mini keta diyayata hanga"

"The above-mentioned poem which has been very familiar since our childhood, gives us a sense of hydrological importance of Adam's Peak. Think a little further; what are the consequences that will arise if we lose those catchment areas? How will it impact on our agro economy, generating hydro power and all the other industries which base their daily tasks with water? Furthermore, we can expect a social, cultural and aesthetic development properly when we have advancement in our economy only.

"As an artist, that's the main reason I joined here. 'Sri Pada' or Adam's Peak has its own conjunctive art and culture. If the Adam's Peak begins to destruct; all the other factors evade along with it. The Adam's Peak is also known as one of the largest and least disturbed remaining areas of the sub-montane and montane rainforests of Sri Lanka, which are a global conservation priority on many accounts. That is the reason which the United Nations Educational Scientific and Cultural Organization has recognised three mountains in the central mountain range including Adam's Peak as a world heritage. That forest includes flora and fauna which are unique. Therefore, protecting this heritage is a responsibility of our nation," says the musician, composer Edward Jayakodi.

"While being on the pilgrimage, our fraternal communities dispose their garbage on this religious place viciously. With the sewage disposal, this mountain peak gets into the depredation. Therefore, it is our responsibility to protect Adam's Peak before transforming it in to a garbage heap. Especially as an artist who represents the younger generation, I have the urge to be shouldered in this national responsibility."

"Youngsters are incapable of handling challenges, and my intention is to get together with the young generation and to protect Adam's Peak. Therefore, joining with the great musician Edward Jayakodi and myself, created a song 'Asiri Surakimu Samanala. With the sewage disposal, this mountain peak gets into the depredation.

"We invite you all to join individually or as volunteer groups with our social media network and our website www.savesripada.lk to pledge to save Adam's Peak. Also, you can join our Shramadana campaigns which will be held on 29 December, 12 January and 20 January along with the co-ordination of state organisations," says the young musician Sanka Dineth.

On this gigantic action, Link Natural Products has taken the leadership with the help of the experience they have over three decades. On this national responsibility, they are devoted with all the courage that they have. According to Corporate Social Responsibility Manager Priyantha Kolonnage, "We have been providing Link Samahan and S P balm for those who are on pilgrimage to Adam's Peak for over six years. However, this time we have decided to go beyond our normal CSR and have decided to initiate a garbage collection and awareness project to avoid garbage dumping in the religious land. We will be arranging six collecting centres and delivery system to manage those waste materials to a recycling plant. By using waste materials, they can create new products and at the same time we can minimise the environmental pollution. Also, we are willing to encourage groups who would volunteer in helping us. We thoroughly hope that; each and every person who visits the Adam's Peak for pilgrimage purposes will help this program to be a success and hope they will be devoted to give a place free from garbage to our future generations and also to comply with this social responsibility."

Director (Sales) Nishantha Paranagama, Category Head Shanaka Fernando, and representatives of Eco Spindles Ltd., the plastic recycling partner of this project also expressed their views in this occasion.