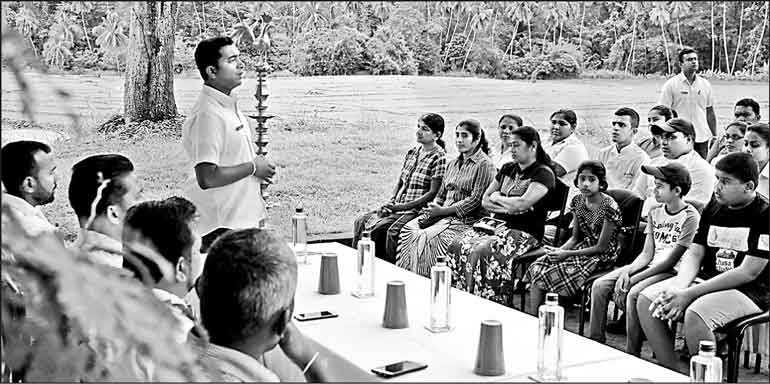 Jetwing Hotels recently took on the challenge of assisting promising local small-scale business owners, entrepreneurs and self-employed product and service providers to reach their potential, by providing them with the means to become competitive enterprises.

Thrive – a program piloted at Jetwing Kaduruketha – is aimed at local suppliers, with capacity building as its primary objective. The core intent of the initiative is to strengthen the livelihoods of local suppliers the hotel sources from, through training, mentoring, along with technical and financial assistance. Two months since the inception of the project, Thrive has seen great success in working with small-scale suppliers and service providers.

As part of the project, a small-scale egg supplier (Manel Kanthi) was financially assisted to purchase chicks to expand her farm and increase the production. She was also given awareness training on the basic hygienic practices in layer management and introduced to other Jetwing properties to grow her market. Purchasing free-range eggs from Kanthi not only helps Jetwing offer guests delectable cuisine made with quality ingredients but also support a local female entrepreneur. Jetwing Hotels is also assisting Kanthi and several other small-scale produce suppliers with the process of obtaining Good Manufacturing Practices (GMP) certification and Good Agricultural Practices (GAP) certification to improve their market outreach.

Furthermore, a Chauffeur Training Program was also conducted, where several chauffeurs participated in a three-day course held at Jetwing Kaduruketha on a range of topics, from basics such as hygiene, grooming, and customer care to areas such as guest engagement and road safety. This was carried out with the assistance of the Traffic Police and Divisional Secretariat of Wellawaya. Upon the completion of the program, the chauffeurs were presented certificates of participation and a Thrive program sticker.

"I have been working with Jetwing Kaduruketha since its inception. When guests needed to travel, I have always driven them safely around the village, but never knowing how to interact with them. Jetwing Kaduruketha extended an open invitation to sign-up for a chauffeur training programme conducted through the Thrive program. There, I learnt a lot on how to interact with guests, on improving basic yet crucial aspects such as grooming and customer care. The Traffic Police of Wellawaya also helped in improving our knowledge of road safety. We are thankful for the opportunity and hope that we would receive more opportunities to improve our knowledge and skills," said Krishantha Laknath, Chauffeur.