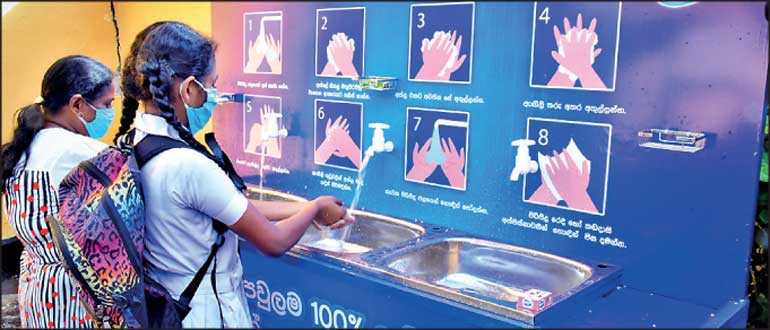 Shield, the new health oriented anti-bacterial and germ killing health soap launched recently by Hemas FMCG, has once again joined the nation's journey in combatting COVID-19.

Supporting the country during the pandemic and to prevent the spread of the virus among citizens, Hemas FMCG had successfully completed a range of initiatives during the past few months; a large quantity of Hemas FMCG personal care items including Shield products were donated to the Sri Lankan Army for use in the quarantine centres, Shield hand sanitiser packs were distributed to officers-in-charge of the National Hospital of Sri Lanka, Colombo North Teaching Hospital in Ragama and District General Hospital, Negombo, while a large quantity of Shield soap packs were also handed over to the Navy General Hospital Welisara for use by frontline staff. Hemas FMCG acknowledges the importance of supporting children return to education and normalcy by reopening schools in a phased manner. Authorities have also emphasised the habit of regular hand washing with clean water and soap in playing a crucial part in ensuring school communities have a safe and COVID-19 free environment.

Continuing its commitment to assist authorities, Hemas FMCG stepped forward to help children return to school through the donation of hand washing units and Shield soap packs. Hemas donated Shield soap packs to schools in the Western Province, covering all schools which are part of the Colombo North region consisting of more than 15,000 students at an event held at St. Anthony's Sinhala Vidyalaya in Grandpass recently.

The donation was in response to a special request made by educational authorities. Principals of these schools were present at the event to receive the packs of Shield soap. Hemas is committed to continue to distribute the soap packs to other schools in the island when classes resume.

Commenting on the project, Hemas Manufacturing Director Marketing Fiona Juriansz Munasinghe said, "Many parents are concerned about sending their children back to school. Our donation of Shield soap will provide schools the necessary support to instill confidence in both the parents and children that every possible effort is being made to ensure they can learn in a safe environment whilst keeping themselves protected."

Hemas Manufacturing Sales Director Subir Chowdry added: "As a local company we are dedicated in supporting the nation and are fully geared to provide the necessary assistance to the Education ministry in their endeavours to help children return to school."

Hemas Shield soap is dermatologically tested and proven to be safe and non-irritant to the skin. The charcoal infused Shield soap, deeply cleanses the skin warding off germs and bacteria. Shield soap is meant for the entire family and is available in original and variants such as Shield Herbal containing aloe vera extracts and Shield Nourish with the goodness of milk.