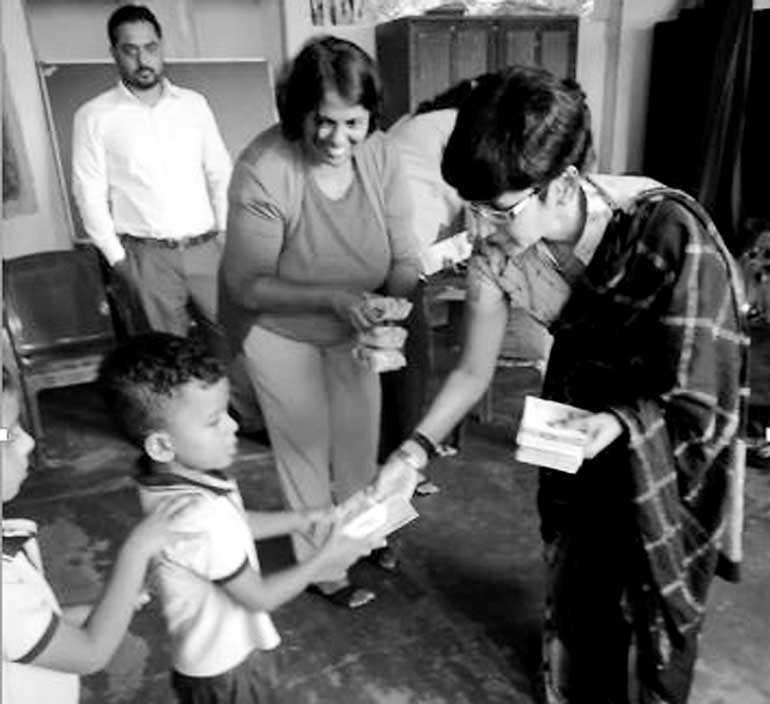 A student of Sarakkugala Primary School receiving a gift from Hayleys Agriculture Holdings Managing Director Jayanthi Dharmasena as SBDU Head Samudra Rajapakshe and Asst. Manager HR Chamika Kushalani look on
Free education truly empowers our communities and it is a strong enabler to bring a household out of poverty. However, the costs of uniforms, bags, shoes, etc., may prevent a child from being sent to school.

The importance of primary education/early childhood education is not a matter that is unknown across the entire population. The desire of any parent in this country is to send their children to a good school and provide every opportunity for their children to do better in life than the previous generation.

In fact, education is a right. It is a great injustice to the proponents of free education if a child is prevented from attending school because of the lack of a uniform, shoes or a school bag. We may consider this as basic but many parents living in North Central Province cannot even afford to offer that.

For the fourth consecutive year Hayleys Agriculture Holdings Limited, the agriculture arm of Hayleys PLC provided all the students of Sarakkugala Primary School with exercise books, uniform material, a school bag and other essential items for the upcoming school term in the new year. The distribution of these essential items was at a recent ceremony organised by the school with the assistance of the parents and wellwishers.

A tree-planting ceremony followed after the handing over of gift items to the children.

Sarakkugala Primary School is situated in Nochchiyagama Divisional Secretariat in the Anuradhapura District, of North Central Province, Sri Lanka. There are 109 students from Grade 1- Grade 6.

An activity that commenced in 2016 has brought about tangible results. In 2018 for the first time in the school's history, it was able to produce two students who got through the year 5 scholarship examination, and in this year 2019 one student has got through the exam.