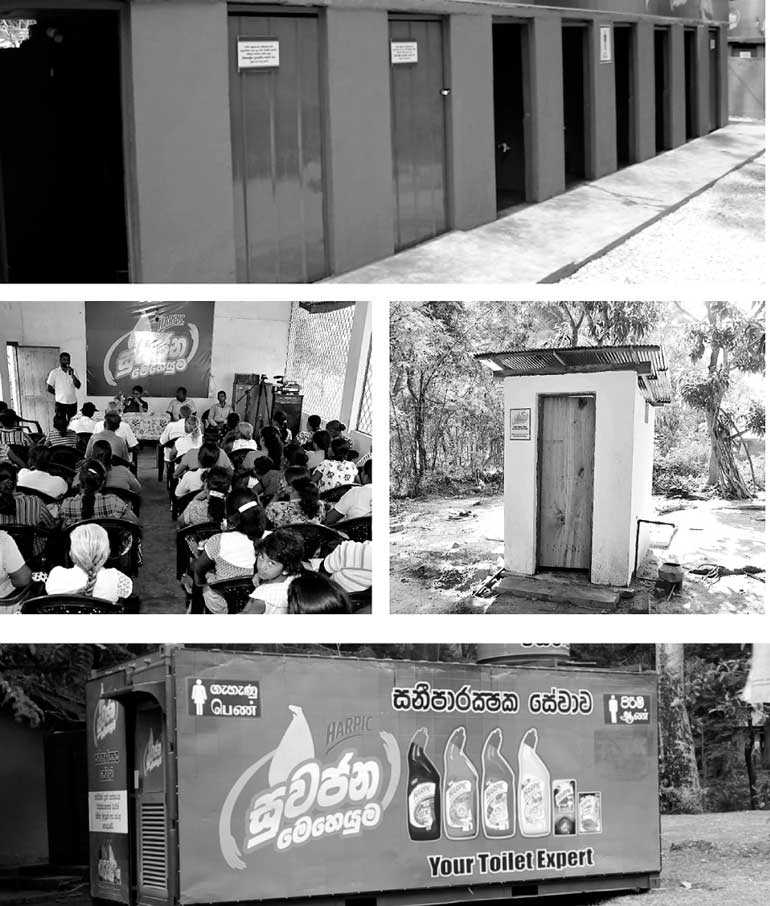 Harpic, Sri Lanka's most loved homecare brand as per the LMD Brands Annual 2019, is moving steadfastly with its flagship CSR program 'Harpic Suwa Jana Meheyuma: Mission Wellbeing', reaching pre-planned targets effectively to improve the nation's sanitation and public wellbeing. Under the year round CSR mission, Harpic has thus far provided benefits to over 1.5 million people through various initiatives such as providing mobile toilet facilities, building, renovating and maintenance of public and domestic sanitation facilities and providing education on proper hygienic practises.

"The year 2019 marks a special milestone for Harpic, as we strive to up our efforts through 'Suwa Jana Meheyuma' to create a cleaner and healthier nation. As we disclosed to media earlier this year, we are constantly at work to achieve this through four main routes i.e. building toilet facilities and providing education for school children, building toilet facilities for the needy households, renovating and supporting the maintenance of public sanitation facilities and providing mobile toilet facilities at major religious and cultural events. As we reach the half year mark, we are happy to have achieved considerable progress under each of these pillars, benefitting hundreds of thousands. Our ultimate motive is to create a nationwide social movement for a more hygienic society," commented Reckitt Benckiser Lanka Ltd. Head of Marketing and Trade Marketing Jude Martino.

Harpic Suwa Jana Meheyuma started 2019 with heightened vigour to complete a calendar full of activities. To start the year, Harpic focused on renovating the public toilet facility near the Makarathorana, Sri Pada, directing a significant investment for the project. The timely initiative was carried out at the start of the Sri Pada pilgrimage season to meet the sanitation needs of thousands of local pilgrims and foreign tourists.

Harpic's modern mobile toilet facilities were stationed at the Thalawila church festival during February, benefitting over 300,000 pilgrims there and benefitted over one million people in Nuwareliya during the month of April. Harpic mobile toilet initiative will continue throughout the year, being present at all major cultural and religious events of the country such the Kandy Perahera and Kataragama Perahera in August, etc.

Earlier this year, Harpic also built and handed over 80 toilets for the under-privileged families in Damana, Ampara district. Harpic's collaboration with the Western Province Education Ministry is also bearing fruit as Harpic is building 25 toilets for selected schools alongside an education campaign to equip the children with knowledge on proper hygienic practices. The total investment by Harpic for the year round initiatives under 'Suwa Jana Meheyuma' will exceed Rs. 20 million.

As Harpic continues the good work, the brand was aptly recognised as the most loved homecare brand by the LMD Brands Annual 2019 recently. The stringent research undertook by Brand Finance Lanka also placed Harpic at the 5th place in the LMD Brands Annual 2019 – Most Loved Brands list. "This goes on to show the popularity Harpic enjoys among its' loyal customer base. Our commitment as a socially conscious brand to give back to the society is an integral part of this great bond. This recognition motivates us even further to continue our work under 'Harpic Suwa Jana Meheyuma' through all four routes. Thus in the coming months, Harpic will be building/renovating more sanitation facilities for public, schools and households and provide relief to thousands through the mobile toilet initiatives. We are hopeful that our efforts and our great bond with our consumers will lead to create that social movement towards a cleaner nation," said Reckit Benckiser Lanka Ltd. Senior Brand Manager for Harpic Chathurika Fonseka.

Harpic is a leading brand of Reckitt Benckiser (Sri Lanka) Ltd. Reckitt Benckiser is a renowned global business that operates in markets across six continents. Inspired by a vision to create a world where people are healthier and live better, the Company produces a popular range of health and hygiene products that include Dettol, Strepsils, Veet, Airwick, Durex and Lysol. Harpic's CSR efforts reiterate Reckitt Benckiser's commitment to conduct a socially, environmentally and financially responsible business entity.