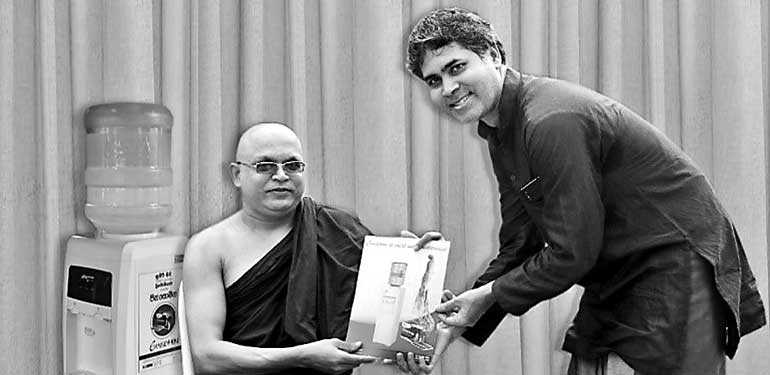 Chief of Panadura Medhananda Daham Pasala Rev. Panadure Vijithananda Thero receiving a water dispenser from Mega Lifesciences Country Manager Praveen Vishvakumaran
A pioneer in human wellness, Mega Lifesciences with its flagship brand 'Ginsomin' donated a water dispenser to Sri Medhananda Daham Pasala in Walana, Panadura. This is one of many CSR projects Mega Lifesciences carries out throughout the year and this fulfilled the serving of clean drinking water to the children of Sri Medhananda Daham Pasala, affiliated to Sri Vijaya Saugatha Temple, Walana, Panadura.

Mega Lifesciences also conducts numerous health camps, educational programs, workshops and lifestyle sessions across Sri Lanka continuously to create awareness on diabetes.

Mega Lifesciences introduced Ginsomin, a world renowned product containing Original Korean Panax Ginseng fortified with 22 essential vitamins and minerals to complement its efforts in achieving human wellness of Sri Lankans. Ginseng has the ability to improve insulin sensitivity and reduce insulin resistance in the body so that insulin can exert its effect in transporting glucose from the food we eat into every cell in the body, including those of the heart, brain and lungs and ensure they work well for optimum performance.

Many diabetes medicines available in the market can only control diabetes but Ginsomin goes beyond controlling by helping to normalise diabetes.

The Mega Lifesciences Ltd. was established in 1983 and has become one of the trusted Human Wellness companies operating in over 32 countries and known to be a world renowned pharmaceutical giant.