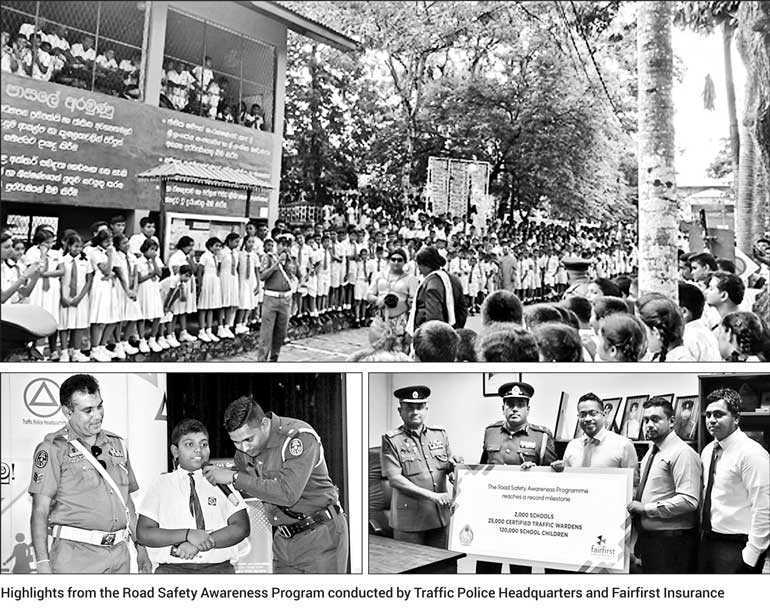 With 2018 coming to a close Fairfirst has touched a new milestone of reaching out to over 1,000 schools and connecting with over 50,000 students as part of their community agenda. For years Fairfirst Insurance have taken a prime standpoint in educating and building awareness among school children and the general public on the importance of road rules and regulations. This project has continued to be exercised in partnership with the Sri Lanka Traffic Police Headquarters since Fairfirst's operations under its former brand name.

According to statistics revealed by the Traffic Police Headquarters, an estimated 3,150 people have died last year owing to road accidents. In Sri Lanka, most of these accidents can be attributed to the blatant disregard for road rules by drivers and the lack of secure infrastructure and stringent laws.

A vital part of this initiative is the traffic warden program which focuses on growing and training the number of traffic wardens in the country. Attested within the Sri Lanka Motor Traffic Act – Section 162, a traffic warden is empowered with the authority of a traffic police officer. Children from schools all over the island usually take on this responsibility. The role centres on ensuring smoother traffic flow, reduced accidents and most importantly ensuring the safety of the school children.

In this regard Fairfirst carry's out tailor made training programs with hands on traininng sessions and live demonstrations from the Traffic Police personnel as to how traffic can be regulated near schools. To appraise the efforts and as a monitoring mechanism, participating students are issued a certificate by Sri Lanka Traffic Police where they are endorced as certifed Traffic Wardens.

"What we aim to accomplish through these programs is to safeguard our country's future generations," stated Sri Lanka Traffic Police Headquarters Director Traffic Admin Indika Hapugoda. "We have been working with Fairfirst for a long time now. It's a relationship that has moved from strength to strength and one that will continue in the years to come."

Despite having no direct link to business, for Fairfirst the initiative is all about investing in the future wellbeing of the nation and taking a stand against an issue that is not just real in Sri Lanka, but the world over. This issue may not be resolved anytime in the near future, but Fairfirst together with these bright young children believe in giving it a try, just as their corporate campaign goes.

"Our hope is that, when these children themselves become the vehicle owners/drivers of tomorrow they will change this risky driving culture to one that's a lot safer. It may be a long shot, but for us this is what giving back to the community means. We are trying to make a difference, just like these children are," stated Head of Marketing and Digital Solutions Sasith Bambaradeniya. Further augmenting the project Fairfirst tied hands with the National Transport Commission of Sri Lanka this year thereby facilitating wider reach among schools. For the year 2018, Fairfirst has conducted over 53 programs with over 31,500 school children. Out of this 10,575 students were certified as traffic wardens and Fairfirst have continued to expand on this network year on year. These events have allowed Fairfirst to cover 742 schools from across the length and breadth of Sri Lanka.