In commemoration of World Elders Day spectacles were donated by Eton Health Care Managing Director Deshamanya Lion Ranjith Kulatunga at the premises. The Chief Guest was District Governor of Lion District 306 C2 Deshamanya Nimal Ranawaka. This act of charity was carried out for the third consecutive time to commemorate the death anniversary of his father Rehenasiri Kulatunga. In the previous two years this was done by giving away medical treatment and medical equipment to thousands of patients.

In his speech Lion Kulatunga said that his theme is giving sight to see the world. He further added that specially the elders belonging to low income levels, due to their ignorance, lose opportunities of prevention and avoiding such situations and through correct advice and guidance and providing suitable spectacles, they will be able to do their day to day work properly and would lead a happy life.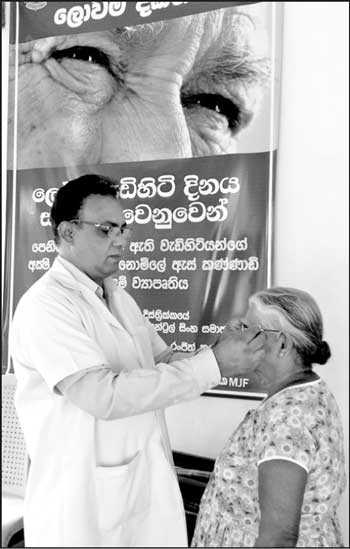 Another commendable feature of the program was the skilful performances of the two eminent artists Giriraj Kaushalya and Rodni Warnakula which added much joy to the happy audience. In expressing their views the elders wished that Lion Kulatunga may be blessed with strength and courage to do such noble deeds in the future and these types of good deeds should be an example for others. Caring for the parents and elders is a good deed. They said that they see him as a noble man, because of such actions as donating spectacles and making us happy and joy. This event was organised by Lions Club of Maharagama Central. In parallel to this event a project to plant trees was also carried out.