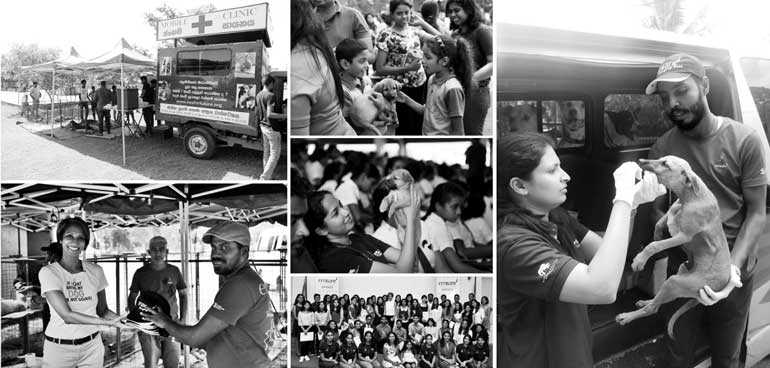 2196 vaccinated, 914 sterilised, 156 rescued and 260 re-homed in first 4 months of 2019


Embark's efforts to promote harmony between humans and community dogs in Sri Lanka have continued apace in the first four months of 2019, with the 12 year-old program reporting more than 5,600 medical procedures and care initiatives in this period.

Encompassing locations as diverse as Colombo, Kankesanthurai, Nagadeepa, Padukka and Welisara to name a few, Embark together with partner organisations vaccinated 2,196 street dogs, administered treatments to 2,125 of them, performed 914 sterilisations, rescued 156 dogs and found homes for a total of 260 puppies in the quadrimester, despite the difficult conditions that prevailed.

Embark also conducted educational programs for children in support of its initiatives to improve the wellbeing of street dogs and to spread the important message of kindness and compassion towards animals: a puppy petting event was held at the Singapore Overseas School on Valentine's Day, and subsequently awareness programs were conducted at the University of Colombo, St. Thomas' Preparatory School and at Visakha Vidyalaya.

The largest Catch-Neuter-Vaccinate-Release (CNVR) project this year to date was conducted in the Kankesanthurai Naval Base in February. A total of 265 vaccinations were performed there, with 274 street dogs treated and 228 sterilised. "Street dogs have always been a part of Sri Lankan life and the Sri Lankan landscape," Embark founder and CEO Otara Gunewardene said. "These very special sentient beings are a part of our communities, and we are glad we can make it safe for them and the people around them to interact without fear by providing the dogs the necessary treatments and vaccinations. Furthermore, sterilisation ensures that the street dog population is controlled in a humane way."

Embark seeks to fulfil its mission through four main campaigns: an anti-rabies vaccinations and population control campaign, a fostering and re-homing programme, treatment of special needs and injured street animals and education and awareness. The main objective of Embark is to improve the wellbeing of the street dogs and to change public attitudes and mindsets towards them to promote harmonious co-existence as with other beings that are a part of our country. This is achieved by advocating practical approaches to connecting with community animals which will in turn also reduce different forms of animal cruelty.

Sterilisation and vaccination are done according to the internationally accepted catch-neuter-vaccinate-release method by trained veterinarians, and the catching and release of stray dogs is supervised by professionals to ensure high animal welfare standards are maintained.

Part of Embark's community initiatives are funded by the profits of the brand, retailed through a chain of standalone stores and stores within leading fashion and lifestyle retail outlets.

The 12 Embark stores in Sri Lanka are located at Dickman's Road (Lester James Pieris Mawatha), Marino Mall – Colombo 3, Liberty Plaza (Uptown Kandy), at the Kandy Department stores in Nugegoda, Kiribathgoda and Kadawatha, and at Ja Ela K Zone, Kurunegala, Galle Fort, Matara, Kandy and the Bandaranaike International Airport (BIA).

Launched by Otara Gunewardene in 2007, Embark has been responsible for nearly 106,250 interventions on behalf of homeless dogs over the past 12 years, has been instrumental in sensitising communities to the needs and rights of community animals, has campaigned for the protection of endangered species of wildlife and for the rights of animals in captivity, and has supported the efforts of the government to eradicate rabies through a series of country-wide programs for the vaccination and sterilisation of stray dogs.