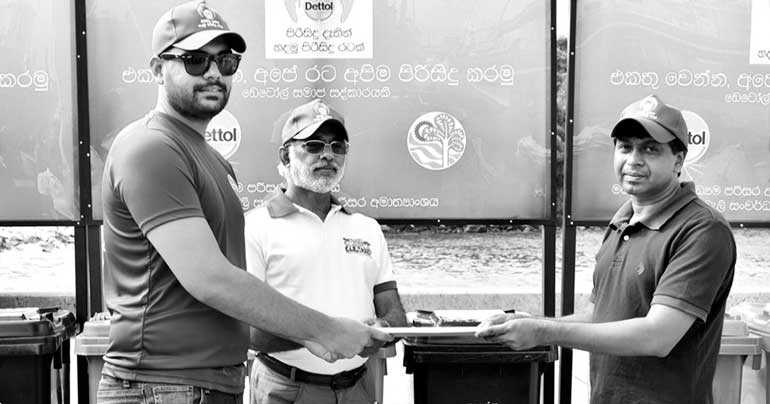 Reckitt Benckiser (Lanka) Product Group Manager (Dettol) Tehan Samarasinghe, Marine Environment Protection Authority Chairman Rear Admiral (Retired) Rohana Perera, Ceylon Fishery Harbours Corporation Chairman Dr. Sudarshana Fernando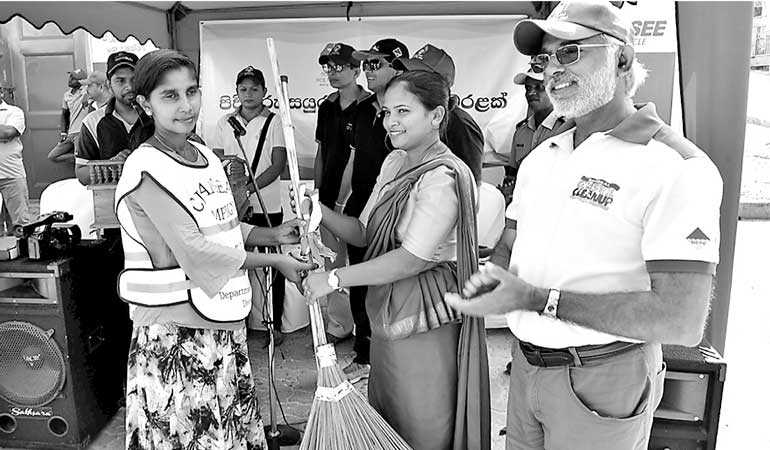 Presidential Secretariat Development and Special Projects Division Assistant Secretary Niranjala Jayaweera (middle) handing over cleaning equipment to the staff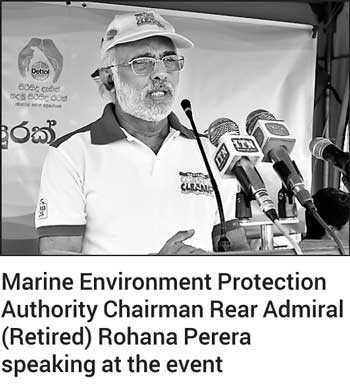 Dettol, a trusted brand among Sri Lankan households for over five decades, spearheaded a cleanup initiative at the Tangalle, Kudawella Fisheries Harbour through their 'Clean Hands, Clean Nation' campaign recently. Over 300 individuals joined hands in this effort.

The volunteer force consisted of officials from the Marine Environment Protection Authority (MEPA), the Department of Coast Conservation and Coastal Resource Management, the Presidential Secretariat Office and the Fisheries Harbour Corporation. Marine Environment Protection Authority Chairman Rear Admiral Rohana Perera, Assistant Secretary to the President Niranjala Jayaweera and Ceylon Fishery Harbours Corporation Chairman Dr. Sudarshana Fernando were also present at the event.

The Dettol Clean Hands, Clean Nation initiative is carried out under three main pillars. They are the prevention of marine and beach pollution, education of the community and the facilitation of a cleaner Sri Lanka. In the past, under the first pillar of prevention of marine and beach pollution, Dettol has selected the most polluted beach strips in the country and launched cleanup initiatives, placed waste disposal bins along with signage and advisory boards and encouraged people to be mindful of proper waste disposal in order to keep the surrounding areas clean and pollution free.

Expressing his thoughts, Reckitt Benckiser (Lanka) Ltd. Product Group Manager (Dettol) Tehan Samarasinha said, "Many of Sri Lanka's harbours are severely polluted as a result of negligence and lack of proper waste disposal methods. The Kudawella Fisheries Harbour too is a beautiful area which had unfortunately been polluted to an unsightly level due to improper waste management. We are really happy to have been able to join hands with MEPA and our other partner organisations to carry out this cleanup initiative and to also put in place effective waste disposal mechanisms for the local community's future benefit."

"The Dettol Clean Hands, Clean Nation campaign is based on very practical and achievable goals. Our aim is to take this initiative to many other beach strips across the country and to continue in our efforts to make Sri Lanka a cleaner and more beautiful place," he added.

With rapid urbanisation, Sri Lanka has seen a spike in injudicious waste disposal and management over the recent years. An estimated figure of 400 kg of plastic waste is released to the environment every day with one-third of this quantity being carelessly divvied up in drains, roadways and waterways, polluting our soil and the ocean. Under its Clean Hands, Clean Nation campaign, Dettol has taken the initiative to cleanup polluted beaches, to install effective waste disposal mechanisms and to construct river and canal strainers to limit the entry of solid waste into the ocean, among many other activities carried out under their three pillars. In addition to this, the Brand will also fund 50 beach caretakers monthly wage across key locations along Sri Lanka's coastal belt to support the local communities.