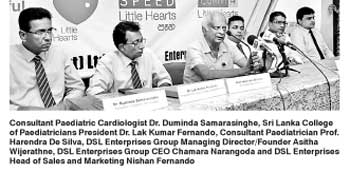 19 September saw leading distribution network, DSL Enterprises Ltd., announce their participation in the Little Hearts project, which aims to build a Cardiac and Critical Care Complex at the Lady Ridgeway Hospital.

Every year over 3,000 children are born with Congenital Heart Diseases (CHD) in Sri Lanka. This results in thousands of children fighting to keep their hearts beating each day. As a means of addressing the situation, the Sri Lanka College of Paediatricians together with a number of other concerned parties, introduced the Little Hearts project. The future Cardiac and Critical Care Complex at the Lady Ridgeway Hospital will be dedicated to the task of treating and saving children afflicted with CHD or any other critical illness, so that they may enjoy a brighter and more wholesome future.

Their vision being 'to be the most respected entity that contributes to the planet by advancing the quality of human life', DSL Enterprises Ltd., together with its own subsidiary, Bluminz Ltd., has introduced a new pen, Speed Little Hearts, as well as a new pencil named Camlin Little Hearts. The company has pledged to donate 20% and 13% of the proceeds earned from the sale of the pen and pencil respectively to the Little Hearts project.

DSL Enterprises Ltd. was established in the year 2009 with a clear vision to bring superior quality product brands such as Linc, Luxor, Camlin, Fine, HP, Wetex, Speed, Doms and Lido to the Sri Lankan public. The legacy of innovative thinking and researching was the foundation of the company's operations and has pioneered into the manufacturing of quality products specially by importing raw materials from India and South Korea. DSL Enterprises Ltd. has laid a strong foundation of good business ethics and sound management principles with the help of the company's management professionals.

"Since its inception the company has focused on developing safe innovative ideas with final aim of advancing the human life. With the recent re-structuring process of the organisation, the management wanted to participate in a CSR project and of the many options before us, we selected the Little Hearts project as we felt that it was the most deserving of our attention," stated DSL Enterprises Ltd. Group Managing Director and Founder Asitha Wijerathne.

"We are truly grateful to DSL Enterprises Ltd. for their contribution towards the Little Hearts project. Together with DSL and a great number of other generous donors we plan to begin and complete the construction of the Cardiac and Critical Care Complex as soon as possible so that we can begin our mission to save as many little hearts as possible," said Lady Ridgeway Hospital Consultant Paediatric Cardiologist Dr. Duminda Samarasinghe.

DSL Enterprises Ltd. and the project committee of Little Hearts humbly request your participation in this initiative. Every pen or pencil you purchase will help keep a little heart beating.