DFCC Poson Bhakthi Gee at the DFCC head office auditorium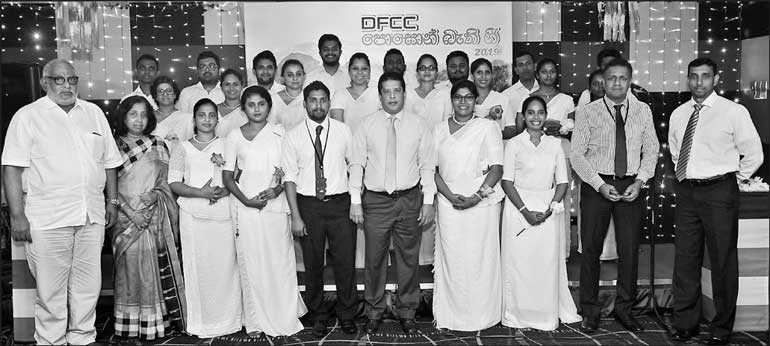 Sharing the peace and joy of Poson Poya, DFCC Bank's staff organised a Poson Bhakthi Gee 2019 on 13 June at the DFCC head office auditorium with the participation of Board of Directors, CEO, senior management, staff and their families.

Poson Poya celebrates the arrival of Buddhism in Sri Lanka and is a festival of great historical and religious significance celebrated island-wide by Buddhists. On the occasion of the Poson Bhakhti Gee, there was a large turnout and all those present joined in devotional hymns singing praises of Lord Buddha and expressing gratitude for the blessings bestowed on mankind. DFCC Bank has continued the tradition of Bhakthi Gee on an annual basis.

The main centre of celebration during Poson is Mihintale, the ancient monastic complex where the royal missionary monk Mahinda preached the first sermon to the ruling king and Anuradhapura, the ancient capital to which a large crowd of pilgrims converge. Mass religious observances and illuminations pageants are part of the celebrations. DFCC Bank also co-sponsors the Mihintale Aloka Poojawa, which is organised by Lake House every year.

DFCC Bank PLC is a fully-fledged commercial bank offering the full gamut of commercial and development banking services.

The Chartered Institute of Management Accountants (CIMA) and the International Chamber of Commerce of Sri Lanka (ICCSL) recognised DFCC Bank as one of 10 'most admired companies' in Sri Lanka for 2018. The Bank was also ranked No. 14, in Business Today's list of Top 30 businesses in Sri Lanka and was placed in the 25th position in Brand Finance Top 100 Most Valuable Brands, 2019. DFCC Bank is rated AA- (lka) by Fitch Ratings Lanka Ltd.