This is a celebration of the uncelebrated, which took place on the evening of 5 May. Such an outpouring of creativities and potentials, so easily taken for granted, cannot be allowed to go uncommented.

How did a run of the mill Vesak Bhakthi Gee recital by the Anaesthetists of the National Hospital transform itself into a deeply felt and highly enjoyable community experience, whose memory resonated itself so insistently?

Youthful professional endeavour and aspirations produced a rare synergy of mindful passion in the group of young doctors, with the unstinted encouragement and support of their consultant seniors, achieved a level of community commitment and self-confidence, which our society hardly provides for or recognises. The compassion and illumination of Vesak, was fulfilled in inspiring songs, melodies and rhythms, with rare good taste and tenor.

It was all so affordable and homegrown. The recital was in the spacious lawn of the hospital under trees and was performed in a modest and simple tent structure, with a raised platform for the choir and a side tent for the small musical orchestra. It had a name, which translates into 'Like the Flowing Moonrays'. The familiarity of the chosen songs meant that the audience could also cotton on. The harmony of the songs was just right. Long after it was over, the memory kept returning to those melodies.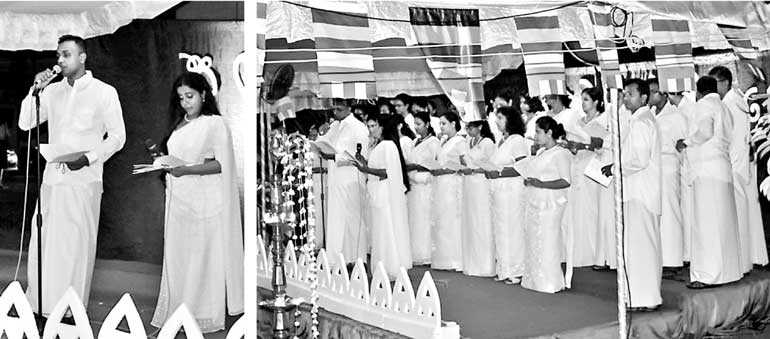 After the 'samapthiya' or end, the tensions were relaxed and the singers and their audience were wrapped in animated congratulations and appreciations and conviviality. The seniors were effusive in their congratulations to the singers, because they were provoked beyond all expectations. And lo and behold, a surprise was sprung on us. The smiling singers, insisted that the audience join them in an upstairs Common Room for a nice string hopper dinner, where small groups of friends sat and exchanged pleasantries in keeping with the mood of the evening. Bonhomie was the distinctive mood of this night of collective enjoyment and humanity.

How few of the best of us, are existentially aware of these hidden reservoirs of creativities and potentials in this crisis-gutted and corrupt land of ours! A different Sri Lanka defines itself in extended moments like this.

Susil Sirivardana From the audience