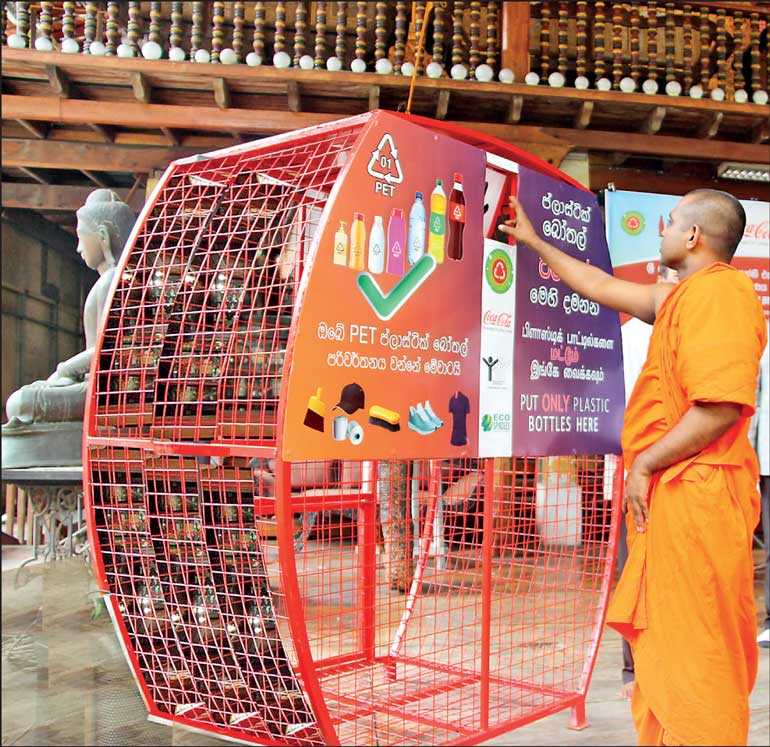 A priest at the Gangaramaya Temple ceremoniously launching the PET collection and recycling initiative in temples, following his blessing for the initiative
---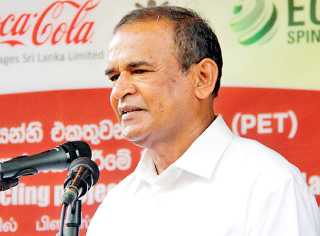 Sevanatha Urban Resource Center President K.A. Jayaratne speaks on the first PET collection and recycling initiative in Sri Lanka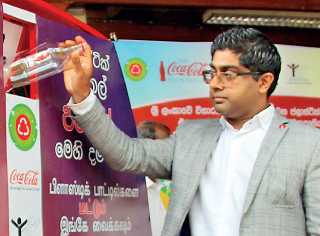 Coca-Cola Beverages Sri Lanka Public Affairs, Communications and Sustainability Director Lakshan Madurasinghe disposes a PET bottle into the 50 kg recycling bin
---
Mobilising key pillars of the community for a worthy cause, and engaging with people from all walks of life to embrace a commitment to PET plastic recycling, Coca-Cola, along with implementing partner Sevanatha Urban Resource Center and its official recycling partner Eco-Spindles Ltd (subsidiary of BPPL Holdings PLC) launched the first-ever PET plastic recycling program in temples across Sri Lanka.
Temples were selected as a strategic location for this initiative because these are spiritual centres and popular community hubs, where local communities gather often.

The project was launched on 1 September 2020 at the sacred Gangaramaya Temple, with the blessing of Ven. Kirinde Assajii Thero.

The priests who graced the occasion also provided blessings for the project to prosper, and conveyed the benefits of Coca-Cola's 'Give Back Life' PET plastic recycling project to the distinguished audience.

Coca-Cola will distribute 120 PET plastic collection bins of 50 kg capacity each amongst 40 prominent temples across five provinces so that religious leaders, devotees, students of Dhamma schools, and the general public can all join in this PET plastic recycling movement. The program also entails a large-scale awareness program targeted at these groups to disseminate information on the benefits of PET recycling as a sustainable solution.

"This project is immensely important for Sevanatha, as it gives us an opportunity to make people aware of the proper disposal of PET plastic waste that would lead to a change in behaviour. Society's development is dependent on these changes and we cannot expect progress unless communities come together to change their usual way of life," Sevanatha Urban Resource Center President K.A. Jayaratne.

A large amount of PET plastic is generated in popular temples which witnesses high footfalls daily, during the Full Moon Poya Day monthly and during functions organised by the temple. This recycling initiative is expected to have a deep impact by encouraging temples to segregate plastic waste appropriately and prevent PET plastic from being burnt or buried at the temple premises or polluting nearby lands creating serious environmental damage.

Sevanatha will work closely with Temple Management Committees to ensure the long-term sustainability of the program through the appointment of bin caretakers and coordination with waste collectors who will transport the PET to the recycler Eco-Spindles Ltd. who will then transform the PET plastic into value added products such as polyester yarn for apparel and monofilaments for brush manufactures worldwide.

"We are happy to partner with Coca-Cola again on an innovative recycling initiative in temples in Sri Lanka. Not only will this program significantly increase public awareness on responsible disposal of PET packaging, collection and recycling into value added products by us, it will also give rise to new industries, employment opportunities and cleaner cities," BPPL Holdings/Eco Spindles CEO/MD Dr. Anush Amarasinghe.

By partnering various sections of society, Coca-Cola is moving closer to fulfilling the goals of its overarching signature waste management program – 'Give Back Life'.

"The Coca-Cola Give Back Life Program is committed to finding new and improved ways to recover and recycle PET bottles. We are excited to partner with Sevanatha, and our trusted long-term recycling partner Eco-Spindles for this brand new initiative that targets the most common place of gathering for communities in Sri Lanka.

"Give Back Life's PET recovery and recycling efforts is a real sustainable solution to fill infrastructure gaps in waste management in Sri Lanka," Coca-Cola Beverages Sri Lanka Public Affairs, Communications and Sustainability Director Lakshan Madurasinghe.

Coca-Cola strongly advocates that post-consumed PET plastic has inherent 'value' and cannot be categorised as 'waste', as it is a 100% recyclable and can create value-added products. Give Back Life also contributes to creating a circular economy, increasing export earnings, and expanding livelihood opportunities for local communities.

Around the world, Coca-Cola is committed towards helping create a 'World Without Waste' by collecting and recycling the equivalent of 100% of its packaging sales by 2030.