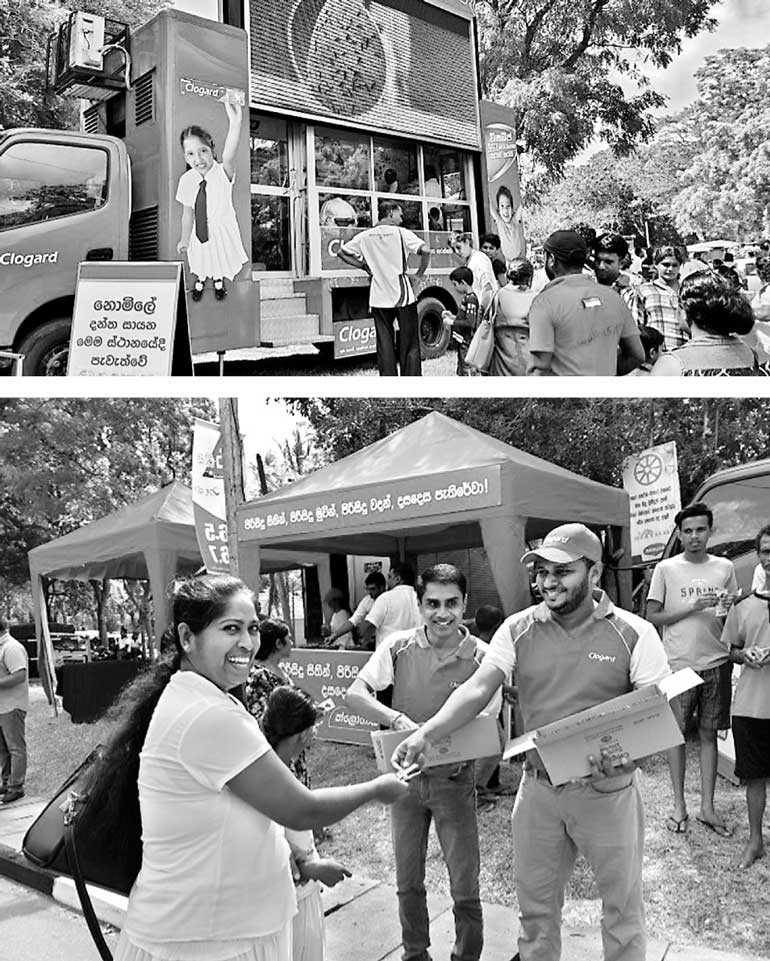 Supporting over a million devotees who had gathered at Mihintale to commemorate Poson Poya, Clogard, the flagship toothpaste brand of Hemas Manufacturing, conducted a host of activities helping those present, infused in a pure mouth, pure words and a pure mind.

Annually, Poson Poya is the second most important day in the Buddhist calendar and venerated as a blessed day, with devotees flocking to the sacred city of Anuradhapura in reverential worship and pilgrimage.

The Clogard team also provided free dental check-ups and screenings for pilgrims through their mobile dental clinic. Promoting good oral health to pilgrims visiting Mihintale, the team distributed toothpaste samples helping those gathered at the location to maintain oral care protection throughout their devotional journey.

In addition, the Clogard team engaged in a special activity where all the pilgrims were offered a clove-based herbal, mouth freshening mix. The renowned medicinal properties of clove is well-known for its antibacterial properties and therapeutic value proposition in helping to reduce germs and preventing bad breath ensuing healthy teeth. This activity contributed towards helping to refresh the pilgrims' mouth and also helping to renew their words and thoughts.

Understanding the need for Sri Lankans to stay true to their heritage of respect and compassion, especially during Poson, the Clogard team distributed prayer cards urging pilgrims to speak pure words, helping drive forward its deep understanding of cultural values and encouragement as one nation during this Poson season.

With a deep understanding of the community and the area, Clogard has empathy especially for pilgrims and those living in the north central area who face the challenges of limited fresh water supplies. The Clogard team ensured pilgrims received ample supplies of water through dispensers located at strategic points to quench their thirst.

Commenting on the activities undertaken to commemorate Poson this year, Azmara Mannan, Brand Manager, Oral Care, Hemas Manufacturing said, "As a responsible brand, we are focused on what really matters and continuously serving the needs of our community. Our aim was to support devotees who were visiting Mihintale this year is a meaningful manner and contributing towards easing their journey. Helping the pilgrims achieve good oral hygiene and in addition inculcate virtuous values has been another milestone."

Clogard, as a much-loved Sri Lankan brand enjoys a strong local heritage especially due to its goodness of time-tested clove oil and scientifically-proven fluoride toothpaste. Unceasingly working to increase awareness on oral health, the Poson Poya programme at Mihintale showcased Clogard's ethos of paying homage to this revered day and staying close to its local heritage.