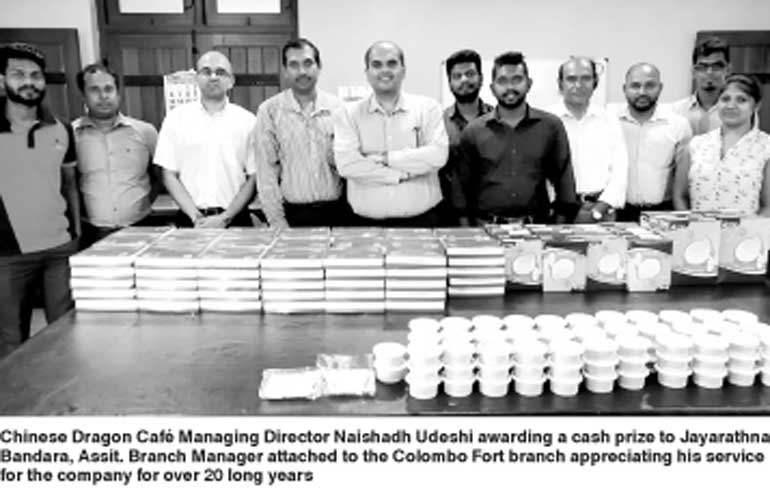 Chinese Dragon Café Ltd., the pioneering restaurant chain in Sri Lanka's Chinese restaurant sphere engaged in a noble CSR initiative with religious activities to celebrate its 75th anniversary.

Religious ceremony and celebrations took place with the participation of Naishadh Udeshi Managing Director, Chinese Dragon Café and the Board of Directors at Bambalapitiya outlet which is the first outlet of this restaurant chain.

Under the theme of "Meal to Remember", Chinese Dragon Café took the initiative in a CSR activity providing lunch for children at Preethipura children's home and milk powder to its infant home at Hendala.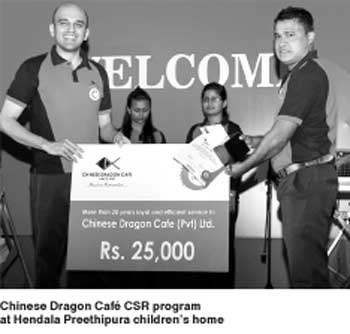 A friendly get-together was held for all employees of Chinese Dragon Café at the head office premises at 280, Canal Road, Hendala, Wattala. Employees who have completed 10 to 20 years received accolades, anniversary plaques, certificates and cash prizes while who have a serviced for 5 to 10 years received certificates and anniversary plaques whereas all employees received 75th anniversary plaques.

Chinese Dragon Café Managing Director Naishadh Udeshi said, "As the foremost Chinese restaurant in the country, we have been in the sphere for 75 long years. Over time, many famous restaurants faded away as a result of not sustaining standards of food and non-compliance with change in food habits and lifestyles of people. But Chinese Dragon Café had weathered storms over the decades to maintain a great rapport with people. We became the most preferred Chinese restaurant for people in the metro and maintained that position for decades because of the generations of our loyal customers, quality of food and our experienced workers."

He added, "We recognised services of our 300-strong staff today as gratitude towards their dedicated services for decades. We humbly invite our customers to be with Chinese Dragon Café in the years to come as we endeavour to serve people with a Meal to Remember."