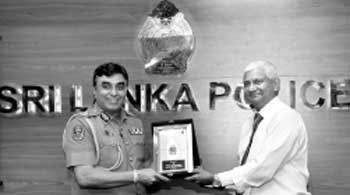 Ceylinco Life recently made several donations to the Sri Lanka Police as a part of the company's 30th anniversary celebrations. The Sri Lanka Police was selected as a beneficiary as it celebrated 151 years of service to the country and for having the oldest and longest-serving band.

The donations included free life insurance policies to 33 members of the Police Band, an electric organ and an advanced security system for the Police Special Task Force (STF).

The donations were received by Inspector General of Police Pujith Jayasundera and Senior DIG M.R. Latiff, Commandant of the Special Task Force.

Seen here are (above) Ceylinco Life Managing Director R. Renganathan, Director/Deputy CEO Thushara Ranasinghe and Directors Palitha Jayawardena and Ranga Abeynayake with the Inspector General and senior officers of the Sri Lanka Police at the presentation of the donations and (below) Renganathan accepting a token of appreciation from the IGP.