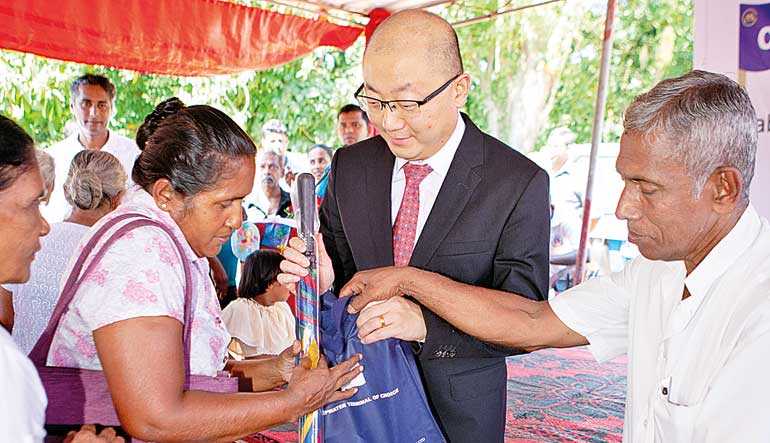 CICT Chief Financial Officer Raymond Mu handing over aid to senior citizens
Support schoolchildren and senior citizens of Pannila, Horana
China Merchants Charitable Foundation (CMCF) – the social responsibility arm of China Merchants Group (CMG), the parent company of the Colombo International Container Terminals Ltd. (CICT) – carried out a community-driven CSR program in Pannila, Horana which reached out to over 300 students and 120 senior citizens of the village.

CICT, which manages the only deepwater terminal in South Asia including the Port of Colombo where it is located, together with CMCF have carried out many community driven projects, targeting all sections of society covering health, social well-being and education. A few of such projects is being the principle sponsor for Wheelchair Tennis in Sri Lanka, providing free cataract operations for the elderly and many more. The most recent initiative was the CSR programme in Pannila, Horana.

This project provided the elderly persons with gift packs containing nutritional food along with other essential items and the students with school supplies for the new school year.

The students and the senior citizens benefitted by the program are residents of Pannila 612-B Division — an area empowered by the Hope Village project of CMCF and CICT. The project is aimed to help the village develop into a desirable residential area, with a fully-fledged community centre, a children's playground, and livelihood support for the needy, etc.

Distribution of stationery and aid among schoolchildren and senior citizens was the first of many CSR initiatives led by CMCF and CICT in the area. The stationery was distributed ahead of the commencement of the new school term in January.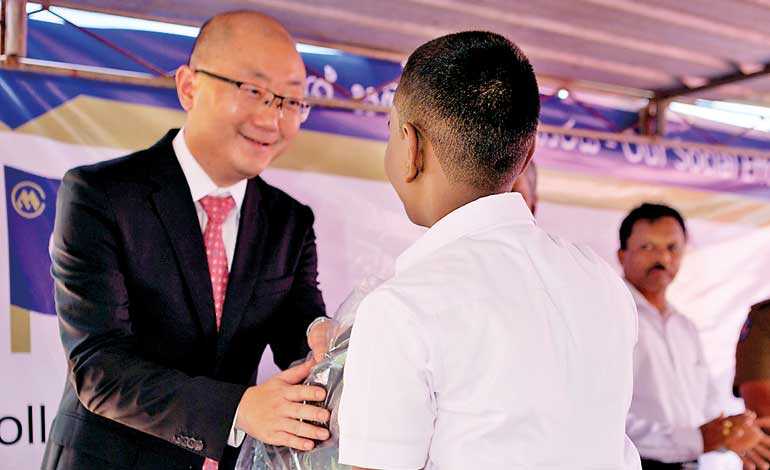 CICT Chief Financial Officer Raymond Mu handing over aid to schoolchildren


A colourful event was organised on Friday (27) to mark the occasion. The senior management of CICT, representatives from the Divisional Secretariat, office-bearers of the village Community Development Committee, community leaders and a large number of villagers attended the event.

Addressing the event on behalf of CICT, Chief Financial Officer Raymond Mu said education was a key priority on the development agenda for the village and the company's strong belief in the value of education led them to support school children.

He also highlighted the crucial role education could play in uplifting living standards in the village, and added that supporting the elderly was also a key element of community empowerment. The CFO stated that CICT was happy to support the village and commended all stakeholders involved in the process.

Community Development Committee President H.A. Gunathilake extended his gratitude to CMCF and CICT, the Divisional Secretariat, Kamal Pushpakumara – Divisional Secretary and the villagers for coming together to support those in need.

Gunathilake expressed hopes that the collaboration would reach greater heights in the future, empowering the village with the assistance from CMCF and CICT.

Shantha Jayasiri, the father one of the students who received stationery, said the initiative eased the financial burden on him before the beginning of the new school term. "We place great value in the education of our children and I am extremely happy that the company has understood our priorities. This also sets an example for others engaging in community work," he added. His daughter, Vishmi Sadeesha, was happy that she received brand new stationery and a school bag for the new year and it made her excited about the new school term. "I am happy that many of my friends also received gifts from the company," she said.

Roselin Abeywickrema, a 73-year-old woman and a beneficiary of the aid program commended CMCF and CICT for appreciating the elderly in the area. "We have been living in this village for nearly 40 years and it is a close-knit community. We are also aware that CMCF and CICT will help us to construct a community centre. These programmes will usher in a new era for our village."

E.D. Yasapala is the Principal of the Olaboduwa Sumangala Vidyalaya and a well-known community leader in the area. Addressing the event, Yasapala said, "I am extremely happy today as a number of beneficiaries of today's programme attend my school. It is my firm belief that the partnership between CMCF, CICT and our village must continue to thrive in the next two to three years and address the pressing issues confronting our village."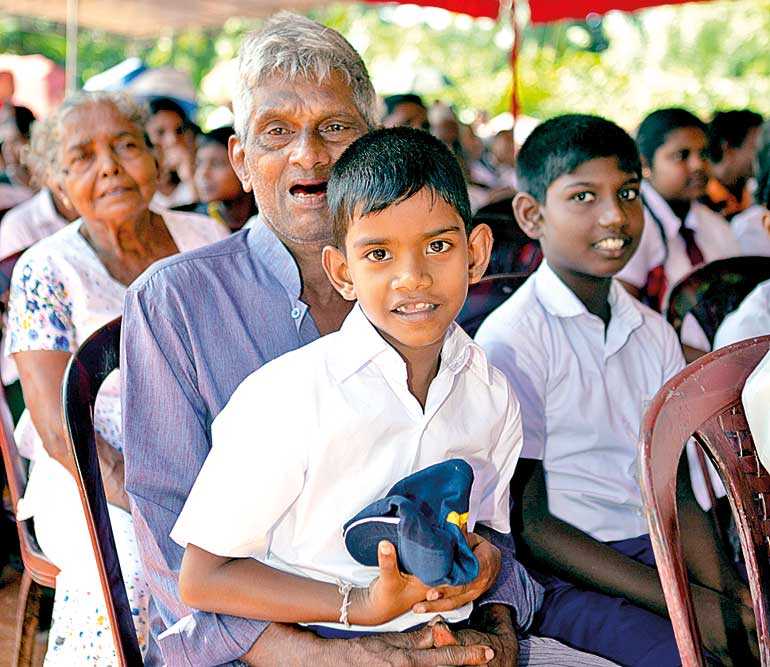 Children and elderly people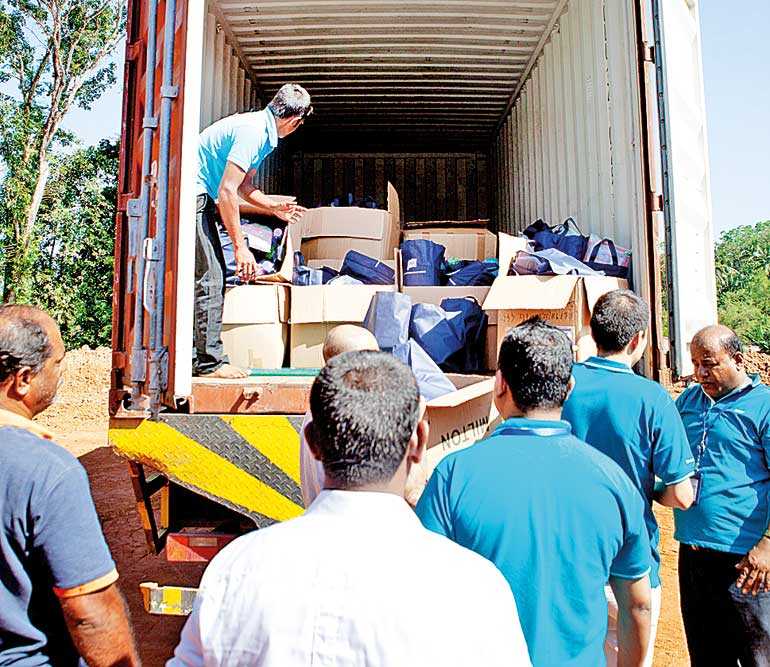 Stock of gifts