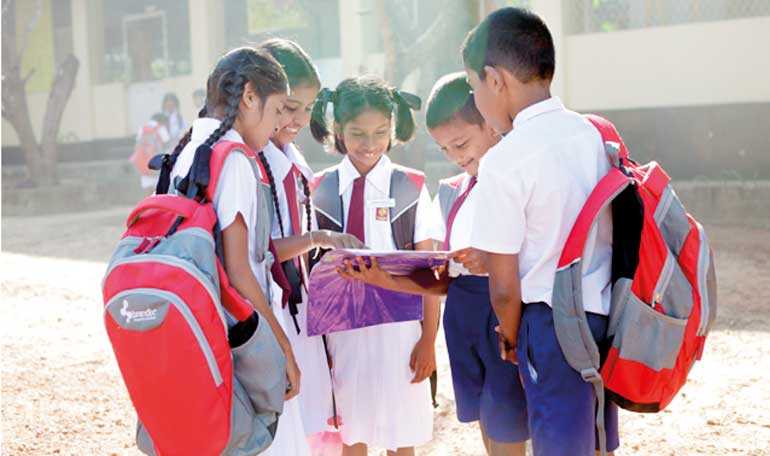 Brandix, in a continued commitment to inspire the education of its associates' children, conducted the 'Randaru Thilina' program across the Group for the fourth consecutive year, providing over 6,500 children with school bags and stationery items for the new school year.

Since its inception in 2016, 'Ran Daru Thilina' has enriched the lives of over 20,000 children of Brandix Associates from nursery age to Grade 5. The school bag for children between Grades 3-5 contains exercise books, drawing books, colouring and standard pencils, rulers, glue, and other essential items, while the school bags of younger children also include modelling clay, scissors and crayons.

This year, significantly, the executive workforce of Brandix participated in the distribution of school bags to children at their respective facilities, ensuring that the 'Ran Daru Thilina' initiative was a success in engaging employees across the Group.

Commenting on the initiative, Brandix Apparel Ltd. Head of Corporate Social Responsibility Anusha Alles said, "We are happy to play an empowering role in the education of our associates' children through the 'Ran Daru Thilina' initiative for a fourth consecutive year. As a leader in the apparel industry, we have the potential to make a positive and inspiring change in the lives of over 55,000 associates, their families and communities, and this is a responsibility we take to heart. By rolling out Ran Daru Thilina year after year, we are able to alleviate the burden of any additional expenses for our Associates and take care of our own, whilst inspiring the future generation to continue their education and become well-rounded, developed individuals."

This year, children of over 5,000 Brandix Associates employed at 22 manufacturing locations around Sri Lanka benefitted from the Brandix 'Ran Daru Thilina' initiative. Additionally, Brandix has a scholarship scheme titled 'Ran Daru Scholarships', under which financial assistance is extended to Grade 5 children of associates.

Brandix, the single largest employer in Sri Lanka's Export sector and adjudged 'Globally Operated Highest Foreign Exchange Earner' at the 2018 Presidential Export Awards, operates apparel manufacturing units in Sri Lanka, India (a 1000-acre self-sufficient industrial park) and Bangladesh, with operations in Haiti, Cambodia and UK. The company continues its journey in developing, manufacturing and marketing end-to-end apparel solutions to world-renowned brands, whilst empowering sustainable development in the communities it operates in.