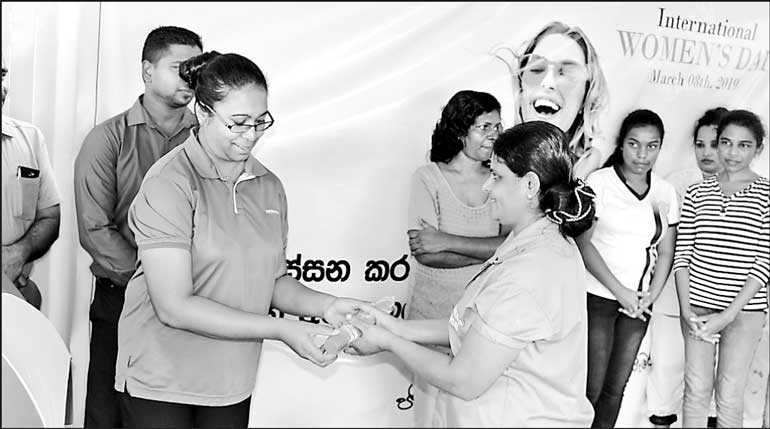 Bairaha Farms Assistant Production Manager Dr. Waruni Ayona handing over a Women's Day souvenir to a Bairaha staff member who participated in the event
Bairaha, the pioneer poultry integrated company in Sri Lanka, celebrated International Women's Day which fell on 8 March at its chicken processing factory with the active participation of all the female employees together with the senior management attached to both the chicken processing and further processing factories located at the Gampaha District.

The theme for this year's celebration of International Women's Day was 'Think Equal,' 'Build Smart' and 'Innovate for Change' and the participants were highly satisfied with the program. They commended the management of Bairaha for their recognition by granting equal rights similar facilities together with entitlement of equal pay for female staff in line with their male counterparts.

Addressing the gathering, Group Quality Manager Lalani Epa offered her sincere thanks to the management for the recognition of female representation in the company's management and staff while reminding that the Sri Lankan women play a significant role in domestic and corporate sector contributing nearly 29% towards the country's GDP, which is a commendable achievement by the woman of Sri Lanka.

Factory Assistant Production Manager Dr. Waruni Ayona especially thanked the management for organising a grand ceremony for the celebration of International Women's Day and pointed out that its female staff add value to the business in many ways. All the female participants received gift parcels at this event to mark International Women's Day.