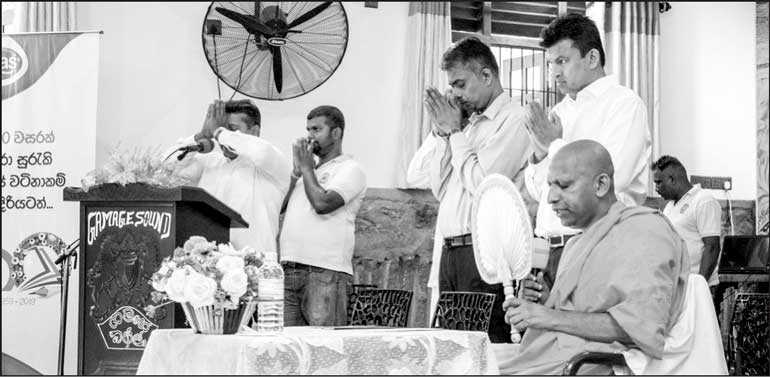 Thibbatuwawe Buddharakkitha Thero the Nayake Thero of the Ridi Viharaya, and Member of the Kaaraka Sangha Sabha of the Malwatu Chapter preaching, with Atlas management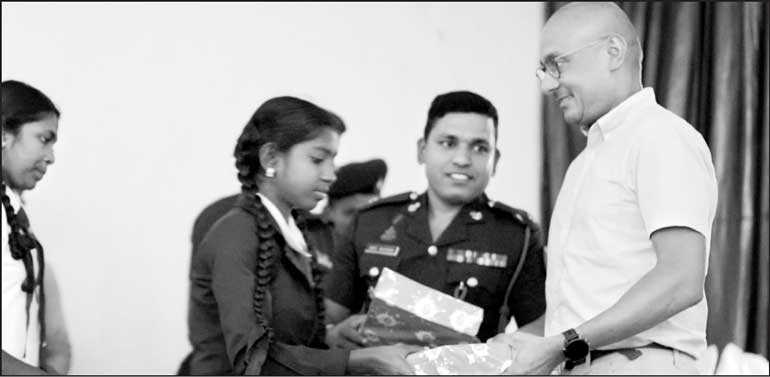 Atlas Axillia Executive Director Nirmal Madanayake presenting gifts to children at the donation event at Sampath Nuwara National School, Weli Oya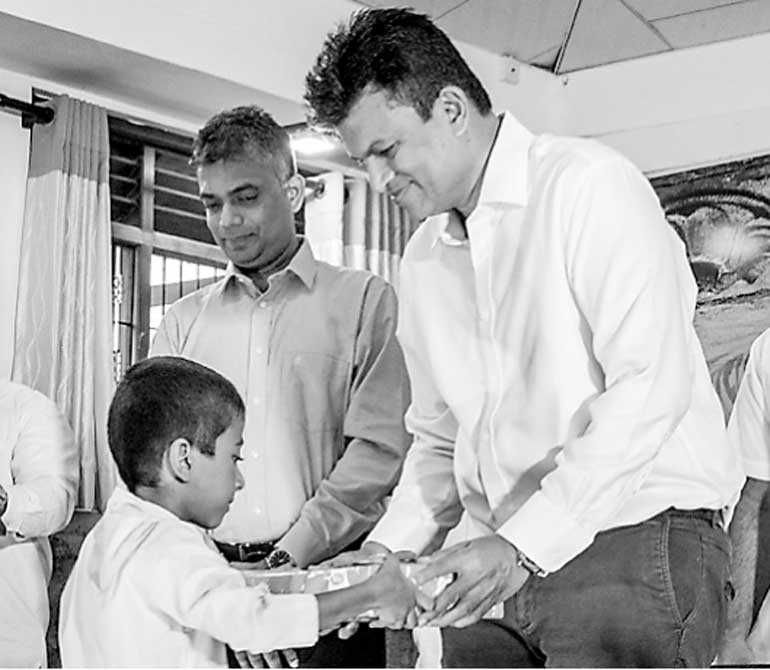 Atlas Axillia Managing Director Asitha Samaraweera presenting gifts to children at the donation event at Ridi Viharaya, Ridigama
Atlas Axillia, the leading stationery and back-to-school supplies marketer in Sri Lanka, recently conducted their Annual Ridi Viharaya Community Outreach Programme in Kurunegala and Mulaithivu Districts. The Community Outreach Programme, which has been conducted under the patronage of the Ridi Viharaya in Ridigama for the 17th year consecutively, provided school supplies to over 3,500 children in difficult circumstances. This program is one of many efforts made by Atlas Axillia, as part of its unique CSR initiatives, to provide equal opportunities for underprivileged children to continue with their studies.

The school supplies were handed out to the children at special ceremonies held in Ridi Gama of Kurunegala District and Weli Oya in Mulaithivu District, which was held under the patronage of the Venerable Thibbatuwawe Buddharakkitha Thero the Nayake Thero of the Ridi Viharaya, Ridi Gama and Member of the Kaaraka Sangha Sabha of the Malwatu Chapter. With the support by the 62 Division of the Sri Lanka Army for the Weli Oya ceremony, each child received essential school supplies to meet their annual requirements for the year 2020.

Speaking about the program, Atlas Axillia Co. Ltd. Managing Director Asitha Samaraweera said, "We strongly believe in sustaining relationships with students and the community at large, genuinely providing them with the assistance they need to realise their dreams through education. For underprivileged children, the financial burden of acquiring school supplies for the year can be too much to bear and this puts them at a disadvantage. Without the right tools learning becomes increasingly difficult and we at Atlas, feel it is our duty to assist these children. We are driven by a passion for shaping and create an equal learning opportunity environment and thus, look to engage in programs such as this. We are extremely proud to be able to partner with such a historic centre of the community with rich culture and philosophy as the Ridi Viharaya to engage in this for the 17th consecutive year."

Venerable Thibbatuwawe Buddharakkitha Thero the Nayake Thero of the Ridi Viharaya, and Member of the Kaaraka Sangha Sabha of the Malwatu Chapter, discussing the outreach effort, stated, "Atlas Axilia is a local company that recognises its social responsibilities. I pray that they have all the strength and courage to continue to travel to different parts of the island and present school equipment to needy schoolchildren in fulfilling this social responsibility."

The Atlas Community Outreach Program conducted in association with the Ridi Viharaya was originally initiated by Nirmal Madanayake, Executive Director at Atlas Axillia Co. Ltd., and a member of the founding family. Discussing the program that he helped inspire, Nirmal added, "This is a continuation of the promise Atlas has made to Ridi Viharaya and the student community has benefitted greatly from this initiative over the years. Many children have been assisted through this program and many continue to receive the assistance they require, which enables them to reach greater heights."

Atlas Axillia maintains a comprehensive CSR program that includes numerous efforts to positively transform education in Sri Lanka and to ensure equal opportunities for students. One of the most significant initiatives amongst these is the SipSavi Scholarship Program, which provides financial assistance to students who are at risk of dropping out of school due to economic circumstances. Other programs include efforts such as 'Manasaloka' to expose children to new concepts and methods of experiential learning and our long-standing teacher training programs, which provide opportunities for school teachers to gain exposure to new teaching methods whilst also providing a platform for knowledge and idea-sharing.

Atlas Axillia Co. Ltd., formerly known as Ceylon Pencil Company Ltd., was founded in 1959 and has since grown to become Sri Lanka's market leader in school stationery manufacturing. Fuelled by a passion for providing school children with essential tools for success, 'Atlas' has created a strong connection with Sri Lankan consumers, being voted Sri Lanka's most loved brand in 2017 and winning the prestigious National Quality Award in 2018.