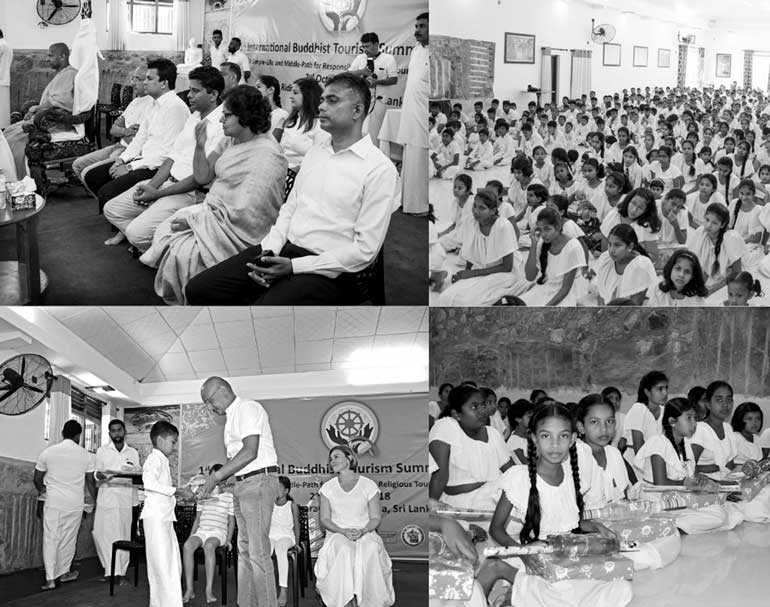 Atlas Axillia recently concluded its annual community outreach initiative held in association with the historic Ridi Viharaya. Held for the 16th consecutive year, the initiative forms an integral part of the Company's unique CSR initiative that reaches out to children in Sri Lanka through a multi-faceted series of activities.

The Atlas Axillia – Ridi Viharaya school supplies donation initiative was a fitting finale to 2018, touching the hearts and minds of hundreds of children in rural communities across the country. The endeavour seeks to provide an equal opportunity to as many children as possible, towards enabling them to engage in their studies without undue worry about the supply of books.

The project which meets the annual school requirements of over 1,000 children, was held under the patronage of The Mahanayake of the Malwatte Chapter, Most Ven. Thibobotuwawe Sri Sumangala Thero and Ven. Thibotuwawe Buddharakkitha Thero, Nayake Thero of the Ridi Viharaya.

This initiative benefits children of all communities living in villages island-wide, enabling them to start their school year with the required books and school supplies.

Ridi Viharaya is widely known for having supplied the silver ore used to build the Ruwan Weli Seya in Anuradhapura, under the aegis of King Dutugemunu; who, history records, is said to have built the Ridi Viharaya as a gesture of appreciation. Ridi Viharaya is also home to paintings and sculpture of tremendous historic significance and is visited by many for pilgrimage every year.

Ven. Thibbotuwawe Buddharakkitha Thero, Nayake Thero of the Ridi Viharaya, believes that this initiative has been consistently meeting the needs of school supplies among those in vulnerable communities. "The Ridi Viharaya appreciates Atlas Axillia's meritorious deed. It has benefitted thousands of children over the years, enabling them to go to school without having to fund school supply needs, which is often another burden on their parents."

Atlas Axillia Managing Director Asitha Samaraweera says that Atlas Axillia is committed to a greater vision of empowering students to make their dreams come true under the Atlas Axillia 'Sihinayata Sahayak', a community driven initiative that articulates the Company's strong visibility and presence in the hearts and minds of Sri Lanka's student population. As an industry leader in school supplies and related products, Atlas Axillia has always been trusted by students as a reliable and a consistent supplier of products they need throughout the school year. Providing school supplies to communities, among other CSR initiatives, form a unique corner stone of the Atlas Axillia's focus on building thriving partnerships, he points out.

"We strongly believe in sustaining relationships with the students and the community at large – with projects that lock in our pledge towards supporting ventures which need greater engagement and support," he adds.

Atlas Axillia is consistently working towards consolidating the partnerships formed with the community while strengthening its role as Sri Lanka's most trusted and well known provider of school supplies and related products, says Samaraweera.

Atlas Axillia Executive Director Nirmal Madanayake, under whose guidance the initiative commenced originally, stated, "It is a continuation of the promise Atlas has made to Ridi Viharaya and the student community who has benefitted from the initiative over the years. Many children have been assisted through this and continue to be helped – which of course enables them to reach for greater heights."

As a Sri Lankan company with a uniquely Sri Lankan footprint, Atlas Axillia continues to support and strengthen the creativity and the ability of Sri Lankan children everywhere on a consistent basis.