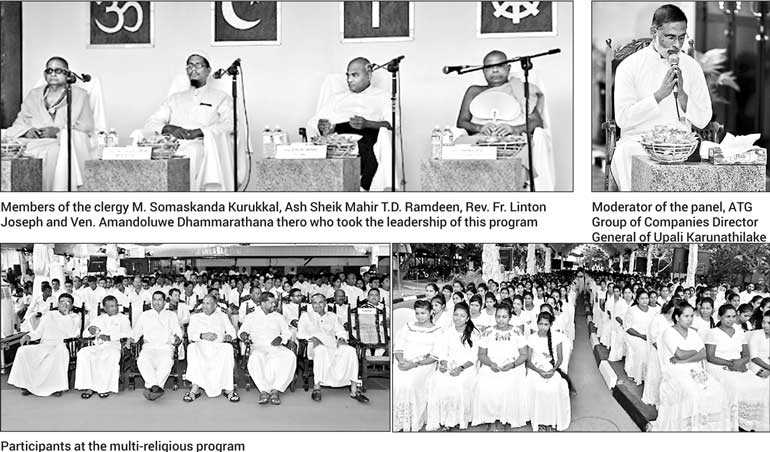 Sri Lanka's leader in high-tech industrial glove manufacturing ATG Group of companies recently successfully completed the second instalment of their multi-religious dialogue to promote ethnic harmony at ATG Occupational Ltd. in Katunayaka.

Following the successful conclusion of the first session at ATG Ceylon in mid-September, the second session was organised to cater to the overwhelming demand from workers and executive staff alike. This program which serves to use religion as a platform to promote harmony in the workplace is the brainchild of the company's Director General Upali Karunathilake who was also the curator of the panel.

The eminent panellists of the evening included Ven. Amandoluwe Dhammarathana Thero, Rev. Fr. Linon Joseph, Ash Sheikh Mahir T.D. Ramdeen (Noori) and M. Somaskanda Kurukkal representing the four main religions. All participants were seen clad in white symbolising fellowship and oneness.

The objective of the program was to spark an intellectually stimulating conversation about how persons of different faiths can work in harmony by keeping an open mind to other perspectives. ATG Group has a dynamic and diverse workforce representing all religions and ethnicities and therefore, since inception, the company has nurtured a culture of affording the same degree of recognition and respect to all faiths in order to maintain a pleasant work environment.

The company's calendar features an assortment of religious celebrations throughout the year to promote inter-faith relations and spiritual enrichment of workers.

ATG Group in Sri Lanka has offices and factories based in Katunayake, Wathupitiwala and Koggala export promotion zones and have now expanded their operations with five factories under their name while offering over 5,000 job opportunities to locals. They have become a strong global player exporting their products to over 35 countries.