Sri Lanka's leading glove manufacturer ATG Group recently donated a home to employee H.P.D. Chandralatha from Katupotha, Pallama, who has been with the organisation for 21 years.

The housewarming ceremony was participated by Chandralatha's family and officials representing the organisation including Director General Upali Karunathilaka who noted that this project marks the completion of another successful CSR effort by the company.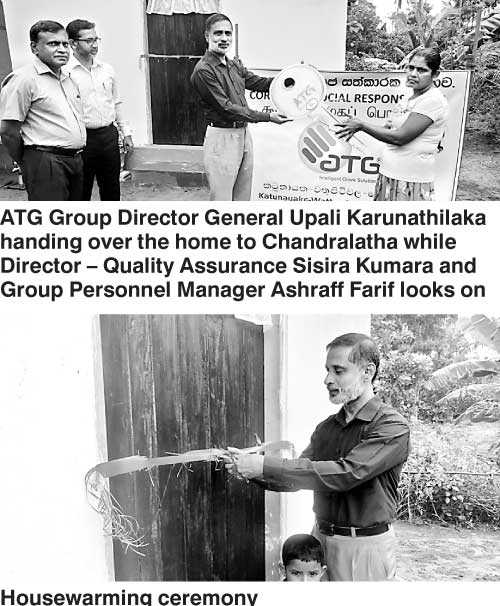 "Chandralatha has been a loyal, longstanding employee of the organisation and we are very happy to be handing over this home to her family today as a token of gratitude for the service that she has rendered," he said.

He added: "ATG Group is constantly committed to ensuring the welfare and wellbeing of employees and we hope to carry out similar projects in future too. We believe the secret of our success over the years has been ensuring that employees are happy and empowered at all times; we regard this with utmost importance."

The company built the home with an investment of approximately Rs. 700,000 for Chandralatha, her husband and her two children.

Commenting at the event, recipient of the new home, Chandralatha said: "I am thankful to the organisation for providing a home for me and my family. I have served loyally for ATG Group for the last 21 years and I hope to remain here until I retire. The workplace is like a second home to me," she added. Founded in 1992, the ATG Group consists of six member companies in three export promotion zones in Sri Lanka. They consist of ATG Ceylon Ltd., ATG Occupational Ltd., and ATG Lanka Ltd., located in the Katunayake EPZ; ATG Gloves Knitting Ltd., and ATG Handcare Ltd. located in the Wathupitiwala EPZ and ATG Handcare Ltd., located in the Koggala EPZ. The Group launched their most recent venture, ATG Hand Care in the Koggala Export Promotion Zone.