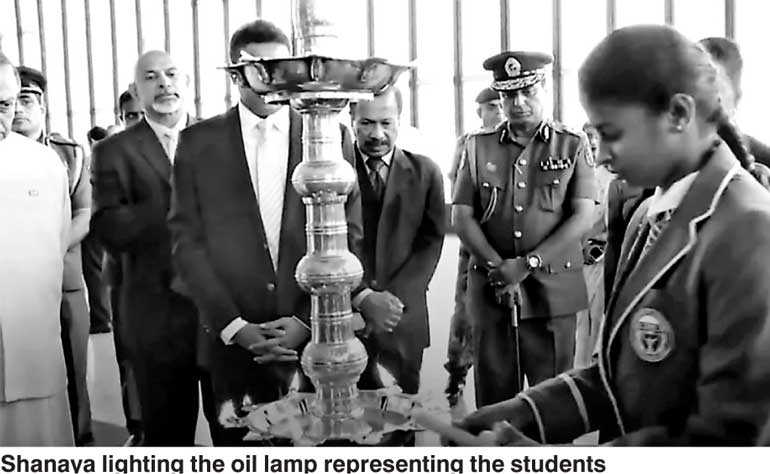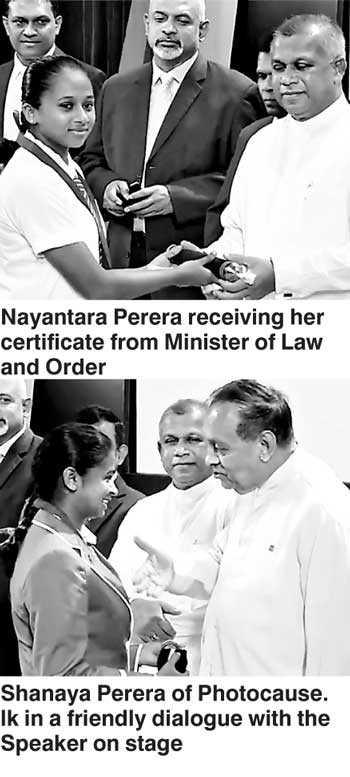 The 'Photocause.lk' cancer engagement project founded by two students in 2011 was awarded the 'White Swan' gold medal for Student Civilian Bravery Social Activity, at the National Civilian Bravery Awards ceremony held at the BMICH on 14 June.

Speaker of Parliament of Sri Lanka Karu Jayasuriya graced the evening as chief guest together with Minister of Law and Order Ranjith Madduma Bandara. Also in attendance were members of the tri-forces, distinguished professionals, students and families of the awardees.

Photocause was founded in 2011 by two sisters, using their talents in photography. The two sisters Shanaya and Nayantara Perera are students of St. Bridget's Convent and have received the total blessing and support from their friends and Principal, Rev. Sister Mendis.

Photocause.lk was awarded for three main reasons. The Project which began in 2011 is tied up with The Sri Lanka Cancer Society. The girls through internet sales and two exhibitions raise funds for the Cancer Society. This process connects over 20 island wide school societies.

In 2017, Shanaya and Nayantara launched the cancer awareness magazine titled "Awake & Click off Cancer" targeting students. The objective of the magazine was to save lives through cancer awareness created among students. "Focusing on early detection can save our mothers and all loved ones," was Nayantara's view.

Moving a step further the project also has launches three short videos on social media using their FB page. The clips focused on two themes, "Detect Early – Save a Life" and "Admiring the fighters". The clips have drawn the attention of over 10,000 views. "If we get 1% interested in our message that is 100 mothers we attempt to save," is the girls view. "That's how awareness saves lives," said Shanaya.

The ceremony was organised by the Foundation for Civilian Bravery together with the support from the tri forces and police. The Sponsors were Janashakthi Insurance PLC. The selection process was handled by a distinguished panel comprising,

R.P.R. Rajapaksha – Additional Secretary Ministry of Defence (Chairman), Major General S.T.D. Liyanage, Asoka Wijethilake – Former Senior DIG, Samantha Gunasekara – Deputy Director of Customs, Thilakaratne Bandara – Former Chief Editor "Silumina", B.A.W.R. Padma Shantha – Deputy Director Ministry of Education, Lieutenant Colonel J.K.R.P. Jayasinghe. Wijeya Newspapers has been closely associated with Photocause.lk with Press sponsorship and wish Shanaya and Nayantara the very best.