'Kelani Saviya' is the award winning CSR program of Kelani Cables PLC, Sri Lanka's number one company in secure electrical and communication cables manufacturing sphere.

The 10th batch of 'Kelani Saviya' was offered with certificates on completion of the training program by Kelani Cables PLC Director/CEO Mahinda Saranapala and University of Peradeniya Vice Chancellor Prof. Upul B. Dissanayake, at the Kelaniya, Clarion hotel.

The event saw 40 students receiving their Kelani Saviya university certificates.

The function was graced by Anil Munasinghe, General Manager (Sales), Kelani Cables PLC, Upul Mahanama, General Manager (Operations), Channa Jayasinghe, Brand Development Manager, Devinda Lorensuhewa, Deputy General Manager (Sales), Ralph Roshan, Sales controller, Rohana Wadduwage Sales Manager (Power and power) and Suranga Pathirana, Sales Manager (Projects).

Representing the University of Peradeniya, Prof. Manjula Fernando, Prof. Gemunu Herath, Dr. Sarath Sisira Kumara (Course Director, 'Kelani Saviya'), and Jayantha Wijesinghe, Coordinator, 'Kelani Saviya' participated.

The brainchild of Prof. J.B. Ekanayake of Peradeniya University, Kelani Saviya, the one-year electrical training program stands tall as the first ever CSR program in Sri Lanka a local university has initiated in association with a private organisation.

The program enhances skills of self-employed electrical technicians to be professionals and grooms school leavers to be skilled electricians. The only criterion for enrolment in Kelani Saviya training program is to have GCE ordinary level qualifications.

In the last 10 years over 500 students have participated in Kelani Saviya one-year training program and most of them are now employed here and abroad as skilled electricians. Some have become successful businessmen.

Kelani Cables Director/CEO Mahinda Saranapala said, throughout the year Kelani Cables PLC engages in various CSR programs that shed light on education and environmental conservation. He said 'Kelani Saviya' is a special CSR program since it bestows each student with a recognised University certificate.

He added, "We pay our gratitude to the engineering faculty of the Peradeniya University for conducting this fully fledged training program. Kelani Saviya is the only training program in the country which offers internationally recognised University certificates to the successful candidates who have only GCE ordinary level education."

The CEO further observed Kelani Cables was determined to expand Kelani Saviya services to other areas in the country as well including the North and East to brighten up lives of the apprentices in those areas.

"We extended the program to the North and East in the country under the brand name; 'Kelani Shakthi' and the first program was held at the Jaffna University. We intend to commence similar programs with other local universities as well," said the CEO.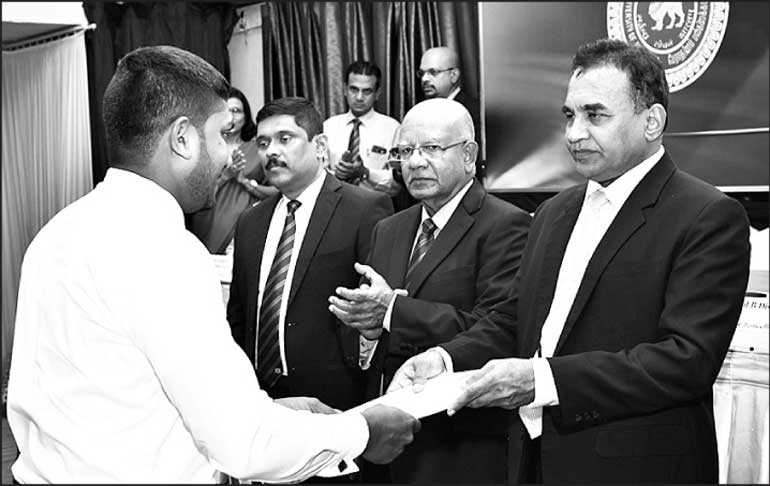 University of Peradeniya Vice Chancellor Prof. Upul B. Dissanayake presenting a certificate to a student


Prof. Upul Dissanayake said, "It is significant Kelani Cables PLC conducting Kelani Saviya CSR program continually at a huge cost. As the Vice Chancellor of the Peradeniya University I am honoured to be a part of this program and I consider this as a milestone in my professional career."

Kelani Cables PLC is a 100% Sri Lankan company serving the nation for 50 years manufacturing electrical and communication cables. The company achieved "Super Brands" status in the electrical and telecommunication sector in 2008 for professional supremacy it demonstrated in the electrical and communication cables sphere. The company is ISO 9001and ISO 14001 certified. In 2017 Kelani Cables won World Class Global Performance Excellence Awards and the company won the Gold Award for B2B Brand of the year at the SLIM Brand Excellence in 2012, 2013, 2016 and 2017.

CNCI industrial excellence award consecutively for three years from 2006 to 2008 and for this achievement was recognised with CNCI industrial excellence crystal ward in 2008. The company clinched Taiki Akimoto 5S Gold award in 2007, National Safety Gold Award in 2010, SLIM brand excellence 2013 Gold award in B2B category and SLITAD people development Gold award in 2013. In 2015 and in 2016 Kelani Cables was awarded Asia's Best Employer Brand Award. The company won Best Green Reporter Gold award at 2016 Presidential Environmental Awards and 2016 National HR excellence Silver award. Kelani Cables was awarded the prestigious National Quality Award in 2016 for the company's sustained business excellence.

Kelani Cables PLC is one of the first companies in Sri Lanka that is signatory to National Green Reporting System. Owing to its health and safety oriented culture and environmental stewardship, Kelani Cables PLC has been certified globally recognised 'Responsible Care' charter.