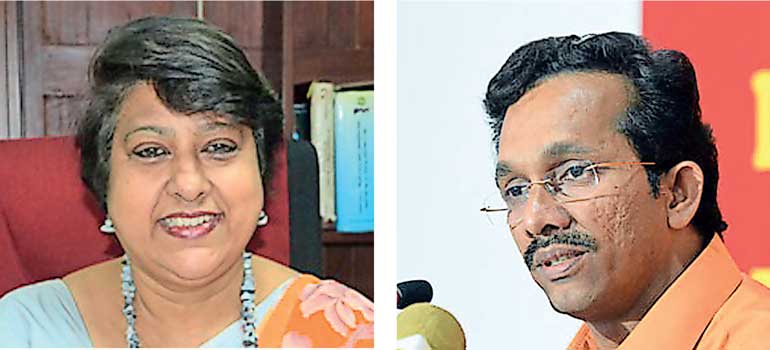 SIT IT OUT, NOT QUIT IT!? – Concur or conquer, the machinery of state as in CIABOC as much as the engine of legislative oversight per COPE must be paramount over petty politicking and personal agendas. Pity, then, that agents of change have opted to step down citing seemingly valid reasons; rather than battle our nation-state's present backsliding into adversarial politics, bureaucratic impasses, and canny politicos prioritising partisan agendas over a genuine opportunity to transform national political culture
Everyone is in favour of law and order, good governance, and all that jazz. That is, until the long arm of the law in one form or another fingers one's friends, one's family, or one's fan club. Thus, the President is – in precept, at least – a fan of the CID, the FCID, and CIABOC. That is, until members of his fan club – a highly (shall we say) 'influential' former bureaucrat and some ex-service chiefs whose favour supports a major electorate – are unceremoniously hauled up before the awful majesty of the law. Thus, the Prime Minister – to all appearances, in principle – is fully supportive of legislative efforts to COPE with corruption. That is, until a parliamentary committee headed by an erstwhile stalwart points the finger of culpability squarely at (shall we say) 'friends' of the establishment in high places. Political cultures may be thought capable of transformation into rich and strange variations of their former selves; but human nature is rarely – if ever – subject to such change.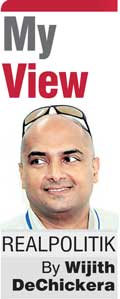 Anyone who is anybody with the faintest stirring of the political impulse will have their favourite theory about how and why this awful farce over what is lawful or not is being staged. Some speculate that 'staged' is probably the right interpretation, with this managed spectacle being presented for public consumption to stave off closer inspection of what really ails the republic these days. Others contend that behind the façade of the high drama, there are real or serious issues which portend cracks in the always cosmetic countenance of the coalition. Some say that the Central Bank bond scam will scuttle the coalition sooner than later; others feel that the ties which bind the post-honeymoon strange bedfellows will hold.

Someone who is nobody ventured that the world of coalition politics would end in fire. Another somebody thought it had already died in ice. From what I've tasted of democratic-republicanism's fiery incarnation in 2015, I hold with those who favour fire. But if realpolitik had to perish twice, I'd say that for destruction ice is also great and would suffice.

The rot

Beneath the bubbling surface of speculation and rumour-mongering at the 'Denmark' of our democracy today (the COPE report being still MIA from the public domain at the time of writing), the rottenness of corruption has been seeping into the soul of the nation-state for decades ever since independence. The pre-open economy epoch may, broadly speaking, be represented as flawed in terms of being castist, statist, elitist; while the post-liberalisation era might be seen as the root of many evils such as crony capitalism, systemic bureaucracy/waste/mismanagement of state resources, emergence of a military-political complex that – together with complicit corporate interests – has made corruption endemic, or native/normal/natural for any government.

On the one hand, there is the 'united' 'national' 'front' of elites, hangers-on, and capitalism- and business-oriented political DNA that operates relatively democratically. There is equal opportunity for everyone in the old-boy network to make a small, decent, clean buck off the bottom of work done or projects completed. With no fuss and bother! And certainly no murder or abductions (at least these days) if partners in crime fall out. On the other, there is the 'united' 'populist' 'freedom' 'allegiance' of ambitious politicos, their family and friends, and a few fans among amoral captains of commerce and industry that works rather more repressively. You have to be related by blood. Not business or buddy-ness. And if you cross the regime you go missing. Or worse, dead…

Of course, this is a crude caricature of the ubiquitous political culture that has been with us since before the flood, when bipartisanship ruled the roost of parliamentary politics. Today, there is hardly any real difference between those who subscribe to the 'UNP' model of making political capital out of capitalist politics or the 'UPFA' example of how to run a country into the ground while making hay as long as the sun shines. In fact, there shouldn't be. For, when it comes to corruption – no matter how decent/clean your ten percent off the floor is, or how dirty/cupidity-driven your thirty percent off the top is – the impact on the national interest is the same qualitatively if not quantitatively. At least in terms of the theory which holds that corruption – in its hydra-headed form: graft, grand larceny, petty bribery, cronyism, white-collar crimes such as trading on insider information – is the cancer of a vital socioeconomic status quo.

That is the common understanding as far as a healthy nation-state goes. But the pity of the matter is that this understanding and acting in accordance with its demands goes nowhere nearly far enough.

The resignations

As far as understanding of corruption goes, its ostensible champions have quite possibly gone too far.

The first Bribery Commissioner since time out of mind with any bang for her buck has quit… evidently stung (in many ways) by the President's pointed observations about how the prosecution of financial crimes committed by previous holders of high office is politically expedient. And therefore politically expedited? Some, in the opposing political camp, might allege that she threw in the towel rather than be in the hot seat when the findings of a certain parliamentary committee would make the possibility of prosecuting a 'political friend' too much to COPE with. Other, equally determined defenders as her detractors are keen to sully her untried by fire reputation, steadfastly maintain that there is no way she could meaningfully continue to hold such a key office when the political champion of the state's anti-corruption drive passed such pointed remarks against her praxis. Little, if any, mention is made in polite but powerful government circles about the pointed agendas of her true political masters. Although that redoubtable watchdog whose bark is worse than its bite – the JVP – is bound to mutter something under its breath about that angle in the House, sooner or later.

Speaking of vociferous watchdogs: The one mild but can-be-firm if the need-would-heed its call stalwart has also kicked himself off the high chair of a parliamentary oversight committee tasked with a Herculean labour. That he evidently did so in high dudgeon at the unconscionable interference of the major government party in seeking to prevent him from hammering the last nail in the Central Bank bond-scam coffin makes the saga go from scandal to imbroglio. Again those tender-minded defenders of the faith would rally to Sunil Handunnetti's side, citing his impeccable handling of the COPE agency and claiming that his resignation in the face of interference is warranted. Other more tough-minded philosophers may essay a suggestion that his quitting is a mere bagatelle. Opening up the opportunity to defenders of the Governor-primary dealer combine to whitewash or water down COPE's verdict with a lesser charge, perhaps, of say criminally negligent incompetence rather than criminal culpability. As to which of these camps is correct in its intuition about the COPE Chairman's resignation, the jury's still out. It ever was.

The ramifications

There are possibly worse ramifications for the republic than gadfly MPs who appear to run with the rabbit while ostensibly hunting with the hound. Media engagement – perhaps especially social media commentary, where suspects are indicted or vindicated at the click of a mouse – has majored on relatively minor issues such as guilty or not; good governance or bad; the ugly itty bitty nitty-gritty of who's who and what's what.

Maybe a major concern might be better represented by what this means for the romance that has been realpolitik for a year plus the span of a pregnancy. Are the partners in this marriage of convenience slowly but surely growing estranged by external factors such as an illicit relationship outside the written code of coalition politics (to pose the question poetically)? Can the bond between these partners with a purpose remain strong when one party is pushed by the other into a forgotten corner while the other party is pulled by the desire to forgive its friends for their now longer alleged misdemeanours but not passover their political opponents with equal grace? Will the President stop playing the injured, offended, party and cease and desist from grandstanding in order to make avail of this opportunity for statesmanship he has been offer on a golden platter? Would the Prime Minister refrain from sulking in a miffed silence and use his vaunted silver-tongued technocratic skills to manoeuvre the nation-state out of these perilous seas? Has the government seriously considered sacrificing a culpable friend to a probably richly deserved fate… rather than risk sinking the ship of the republic for the sake of salvaging, well, only they know what remains of the tatters of their reputation for integrity and above-board dealing? (I think now that the hyenas have loudly denied any wrongdoing in terms of a possible cover up, the official denial by such tatterdemalion henchmen has only confirmed their culpability in the eyes of the public's now fully justified hermeneutic of suspicion.)

Perhaps the irony is not lost on the cynical parties of the first part. The shameless favouritism! The unscrupulous side business that certain well-placed cronies of the financial powers that be seem to be doing under the radar while their less savvy cohorts face the courts of public opinion as much as parliamentary oversight! The sheer barefaced baldness of a leadership challenged by the indiscipline of its lackeys and lovelies (to continue the marriage metaphor)! – those are a resurrected avatar of the very ghosts of our sordid past that these, our erstwhile champions of transparency and accountability, once strove to lay to rest. It remains to be seen who, which, what, of the present gremlins in the machinery of state will – if at all – being the undoing of a good (if not great) idea… the notion that our former coconut republic, once run aground by cruel and greedy nutcases, could with some sincere and significant effort be restored to a semblance of democratic-republicanism by government acting responsibly in tandem with civil society.

But civil society in the main seems as silent as the grave. There are graver issues, which perhaps merit its consideration and make for a meaningful silence that must give 'good governance' itself pause. Will crony democracy, thus, have the first essay into rule by law and the last hurrah on the restoration of law and order to grind old enemies into the ground? While personal friends and partisan favourites escape gaol, their just desserts, and the full weight of justice that is clearly not yet transformational – leave alone transitional?