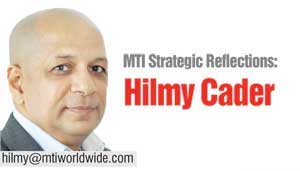 The world's top exporters (for the different sectors) demonstrate one or more of the following 'base' capabilities. These are the 'platforms' on which they enable profitable export industries:
Intellectual Property by way of multinational businesses and brands e.g. USA, Switzerland, Japan
High-value natural resources e.g. Australia, Russia, Saudi Arabia
Highly-skilled knowledge workforce e.g. Singapore, Korea, India (for ITES)
Large-scale, low-cost 'production' workforce e.g. Bangladesh, China, Vietnam
Regional hub e.g. Dubai, Netherlands
On what 'platform' are we?