CROSSING GUARD – Perhaps we don't need to enact new legislation to curb the free flow of dangerous chauvinist traffic into the mainstream of political discourse. Maybe a more meaningful response to moonstruck madness would be to implement the relevant provisions of the ICCPR Act of 2007 against hate crimes – Pic by Upul Abayasekara
"As we live a life of ease / Every one of us has all we need / Sky of blue and sea of green / In our yellow submarine." For no obvious reason, these lyrics of a notoriously obscure Beatles song kept humming themselves in my head this week. Maybe it was a subconscious reminder that really we live in something of a surreal republic.

This is the impression I get when I read that in an effort to be in line with international norms, we will start painting the pedestrian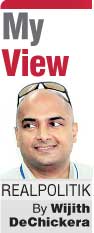 crossings all over our country white, transforming this primary road safety measure into a zebra-like conformity. Of all the things that Sri Lanka needs to get its lingerie in a knot over, whitewashing yellowed zebra crossings is perhaps the last thing I'd give priority to if I was the minister in charge of road safety – or whitewashing the republic.

I suppose one must be grateful, though. Our road safety track record is ridiculous for a society that places such a high value on the sanctity of life. We don't slaughter or consume flesh, fish, or fowl when the moon is full. If we occasionally massacre men, women, and children during some rare blood moon, of course it's the fault of rabid terrorists or terrible revolutionaries. And since the only place we commit manslaughter with impunity is on our highways and byways, under the influence of moonshine or some stronger narcotic, I guess we must be truly thankful that the powers that be are taking steps to make pedestrian crossings more visible to murderous bus drivers.

But we live in sadly cynical times. In which things are as they are, and behind them there is something. Under a previous corrupt regime, things were as they were – and behind them there was nothing. All the rot was upfront or hidden in plain sight. Such was the arrogance of authoritarian or antidemocratic forces that once ruled the roost. Today it is all smoke and mirrors. Business as usual: ten percent off the bottom, after the project's completion, and everybody gets a percentage. We have come a long way since the bad old days of thirty percent off the top, and no share for anyone else but close family and crony friends. So you will be excused for condemning me as a radical heretic who would return the republic to a more sterling regimen of sea-green incorruptibility.

"So we sailed up to the sun / Till we found our sea of green / And we lived beneath the waves / In our yellow submarine."

We all still live beneath the surface. Once upon a time, in a dangerous milieu where it was fatal to point out the error of their ways to the powers that were then, we remain submerged for safety's – and survival's – sake. Today we surface occasionally to take pot shots at the powers that be, as they fly imperiously overhead, but still under the radar of truly transparent governance. And if our challenges are somewhat absurd, or our criticisms inaccurate or incomplete, and our condemnation unfair, unjust, and undeserved, we can console ourselves that the powers could care less for all the carping and cavilling we do. (I, for one, am ready to flush away the allegation that certain champions of the free media make their mark on toilet paper as being bottomless playing to the gallery on the part of cynical manipulators of the media-industrial complex!)

So it is with a sense of relief at the un-flushable nature of social media commentary that one notes the cynical comment that it's not tough-minded international conformity which interests the country but a more, er, tender-minded approach to making hay while the sun shines in the midst of cruel November rain… It remains to be seen to whom the contract to turn yellow stripes white, island-wide, will go?

"And our friends are all on board / Many more of them live next door / And the band begins to play / We all live in a yellow submarine, yellow submarine, yellow submarine."


Yellow, or white?

Another item of national interest that arrested my attention this week was a much-vaunted statement by the Head of State. Ostensibly in response to the widespread outcry against mad monkish-ness militating against a meaningful maintenance of the peace, the President spoke out unusually strongly against our potentially militant saffron brigade.

In a hard-hitting declaration of war against one man's – one movement's – truancy, our chief executive urged the police to arrest all instigators of racial hatred and violence; asked the security heads to be mindful of ethno-racist incitement to venom and vitriol in the market square; and reassured our troubled republic that new laws to curb the volatility and vituperation of vindictive chauvinism are being formulated as we – as he – speak/s.

Ah, there lies a rub. For with the last of these imperatives, the President could be trying to paint the legal landscape white – when yellow lines, as they are, will serve the intended purpose well enough. If you follow me.

As has been argued before – by clearer, sharper, legal minds than that in possession of yours truly – "The Government's … attempt to introduce new laws serves to perpetuate, rather than combat, impunity." In an article titled 'Hate Speech in Sri Lanka: How a New Ban Could Perpetuate Impunity', human-rights lawyer and civil society activist Gehan Gunatilleke made a strong case… some pertinent points of which bear repeating here…
The Sri Lankan Government's announcement in September 2015 that it would attempt to enact new laws criminalising hate speech was in response to a challenge issued by the UN High Commissioner for Human Rights
The Minister of Justice followed up by tabling two new bills in Parliament, in December of the same year, ostensibly targeted at banning and preventing hate speech
"The two bills sought to insert a new offence on hate speech into the … Penal Code and the Criminal Procedure Code," but were defeated before even reaching the floor of the House
This may have been a blessing, as "Sri Lanka does not face a gap in the law as far as hate speech is concerned"
In fact, an extant law – Section 3 of the International Covenant on Civil and Political Rights (ICCPR) Act of 2007 – encapsulates Article 20 of the ICCPR, and is thus already compliant with the spirit and the letter of international law
As it stands it "prohibits the advocacy of 'religious hatred that constitutes incitement to discrimination, hostility, or violence'. And it also gives "the High Court [of Sri Lanka] jurisdiction to try and punish offenders".
Gunatilleke issued this challenge as far back as January 2016 in regard to Sri Lanka's arguably most notorious inciter of communal violence: "To date, Gnanasara Thero has not been investigated for the role he played in inciting violence against the Muslim community [in June 2014]."

Since before that time, Sri Lanka's chauvinist moonstruck monk had been tried in a high court – albeit for contempt of court – and was thence sentenced to remand by a magistrate from whence he appears to have re-emerged to cry havoc and let loose the dogs of war. He has had at least three arrest warrants issued against him. In May 2015, the monk was arrested after he failed to appear before court over his alleged participation in a protest outside the Bribery Commission in violation of a court order (he was enlarged on bail).

In October the same year, he surrendered to the Colombo Fort Magistrate after a warrant was issued for contempt of court (the magistrate withdrew after the monk surrendered to court). In January 2016, he was produced before the Homagama Magistrate after surrendering to police following a warrant for his arrest over his alleged disrespecting of court in the case of Ekneligoda's being MIA.

Therefore, while the President's prerogative to arrest inciters remains valid and welcome, the corollary reassurance that new laws are being mooted to place hate-crime offenders under lock and key is cause for concern. For one, it might suggest that Sri Lanka has no law at present capable of and suitable for prosecuting such malevolent peacebreakers (the most egregious flouter of extant but effete law, by virtue of non-implementation, remains at large). For another, if new laws are passed by Parliament, it may well reinforce impunity by letting previous offenders off the hook.

Perhaps, the President need not tax his Justice Minister with reinventing the wheel. We don't really need the yellow lines obliterated and white zebra crossings put in place anew… at a cost… There is already a hate-speech law – implement it!